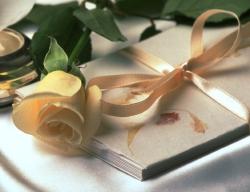 This past week, Adien and Haylee (haven't been reading? They're the fictitious bride and groom my team has to plan a wedding for) had to tackle stationary. It was definitely overwhelming. There are so many printing styles—engraving, letterpress, thermography, flat—and invitation designs, plus response cards and so much more. Luckily, we were there to help them with some basic, and some not-so-basic, invitation rules and money-saving tips.
Because Adien and Haylee have a smaller budget, we suggested they use vellum overlays—translucent sheets that serve as a decorative top layer to the invitation—to save money. Vellum overlays can be printed on and customized, and they're a pretty way to dress up invitations without spending hundreds of dollars extra. We also told the couple that to save money they should order more invitations than they think they need. The first 25 invitations are often the most expensive because it costs to set up your customized layout, so going back to the printer to reorder will put you back in that pricey 1-to-25 range.
My consulting team also put together a quick list of invitation basics and etiquette rules to help Adien and Haylee:
Invitation Basics
• What's included on a traditional invitation card: host line (typically parents' names), request line (for example, "invite you . . ."), bride and groom's names, date and time, location, and special instructions such as dress code.
• What makes up an invitation: outer envelope, inner envelope, invitation card (which invites guests to the ceremony), reception card (which invites guests to the reception), and response card. Remember: Stick to similar designs and colors to create a theme.
• When to send: Save-the-date cards should be sent anywhere from 6 to 18 months in advance, depending on if your wedding is in a popular summer month or around a holiday. Invitations should be sent 6 to 10 weeks in advance.
Invitation Etiquette
Do's:
• Keep track of everyone you sent save-the-dates to, and make sure that they receive an invitation.
• Make sure you have enough postage on each envelope.
• Make sure the return card is already stamped so your guests don't have to pay for postage.
• Be loud and clear if it's an adult-only ceremony and reception. The "special instructions" section of your invitation card is a perfect place to say this (and if childcare will be provided, say so).
• Address the inner envelope only to whoever is invited: "Julie and guest," "Julie and Jim," "Julie."
• Note that "honour" is spelled with a "u" in the traditional phrase "Request the honour of your presence."
Don'ts:
• Include registry cards. A "no gifts, please" note is okay. It's also okay to put a Web-site URL and then include a link to your registry on the Web site.
• Include any abbreviations or dates that aren't written out.
• Forget to include a date you wish to have the response card back by.
After all that, Haylee and Adien were stuck deciding on what type of stamp to use. We suggested the ever-popular "love" stamp (the US Postal Service issues a new design each year), or that they go to photostamps.com to create a customized stamp with one of their engagement pictures—more expensive but much more personal.
Maria Abrams, a student in George Mason University's Wedding Planning and Management class, writes every Thursday about her final class project—planning a wedding from start to finish, using real vendors and a $15,000 budget. Click here for her past entries.
To read the latest Bridal Party blog posts, click here.