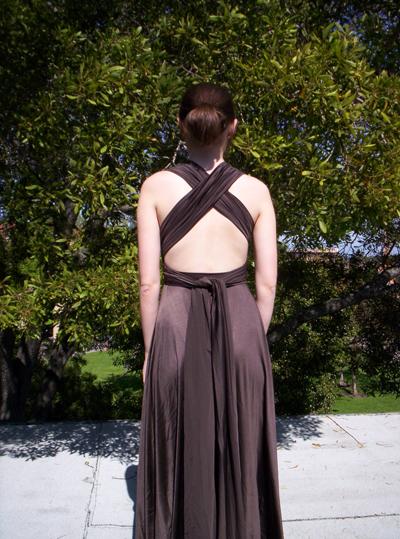 When you hear about a bridesmaid dress that can be worn at least ten different ways, there's really nothing to do but grab a friend and have a fashion show. So this past weekend, my pal and I set out to see if the Twobirds bridesmaid dress by New York designer Ariane Goldman (basically, one stretchy dress with very long straps that can wrap different ways to create different dress styles in the same bridal party) lived up to all of its claims. See a few of the ways photographed below.
Our report card:
• "Yes, it's all the same dress": A+. Yup, just one dress.
• "One size fits 0-14; size B fits 16-24": B-. The stretchy material (a blend of jersey Spandex and nylon) helps, but be forewarned: A woman needs cleavage to wear this dress in pretty much any style.
• "With at least ten unique ways to wrap the dress . . . ": A+. In a matter of minutes, we had found many more than ten ways to wrap and tie it. Most, like the ones on the Twobirds Web site tutorial, were pretty; a few others—like the one that ended in a giant bow on my stomach—were pretty outlandish.
• "Look and feel beautiful while maintaining consistency and elegance": A-. This dress—which Goldman created after buying so many stuff-in-the-closet bridesmaids gowns for her friends' weddings—comes in two lengths (calf and floor) and 13 pretty colors including lilac, apple green, and chocolate. And since you get to choose the way you wear it (strapless? thick straps? halter?), you can pick the style that makes you feel sexiest while still matching the other bridesmaids. But if you're a traditionalist, the lack of skirt-poufing crinoline and 100 percent conformity may have you running for the Vera Wang Maids collection.
The Twobirds bridesmaid dress ($270 calf-length, $290 floor-length; add $20 for plus size) is also available in custom colors for an additional $40 fee. For more information on how to order and get fitted, visit twobirdsbridesmaid.com.
To read the latest Bridal Party blog posts, click here.