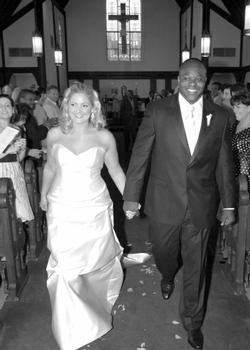 When Angela Schmidt Shimé sat down to dinner at her wedding reception last June, she was expecting the usual: A clink of a glass, a few words from the best man, then back to the meal.
But that's not how they do it in Cameroon. Or, apparently, when you're marrying a Cameroonian in Maryland.
"It was a tradition for Will that all of his friends and family would get up and say something, and give a blessing," Angela says. "Every time one of his guests said something, one of mine would get up and tell stories. It turned into an hour of toasting."
Before the ceremony, Will's friends had also surprised Angela by bursting into a capella Cameroonian wedding songs that had guests on both sides of the church dancing.
Will, who works as an account executive, came to Washington from Cameroon in 11th grade to play football for Bishop McNamara High School, continuing on to college football at the University of Maryland. In 2003, he met Angela's sister, who—knowing how stubborn Angela was about being set up—arranged for Angela, a director of global events for a Fairfax software company, to "run into" Will at a bar in DC. They stayed out dancing until 2 AM and started dating soon after.
Will proposed on the rooftop of Charlie Palmer Steak on June 11, 2006, Angela's birthday. The Shirlington couple spent a year planning their wedding, held at Angela's parents' property on the St. Mary's River in Maryland. They gave the caterer some of Will's mom's recipes and did readings in English and French, Will's native tongue. They hired a band to perform American music and a DJ to play CDs that Will's mom had brought from Cameroon. The couple grins as they remember some hot and heavy dancing. Says Will: "That's where it got really Cameroonian."
Will's friends and family who couldn't make the wedding, held a Mass and celebration in Cameroon at the same time. Later this year, he and Angela will travel to Will's village to say "I do" once more.
Engaged or married—and have a Love Story just dying to be told? E-mail mconrad@washingtonian.com.
To read more Love Stories, click here.
More>> Bridal Party Blog | Wedding Guide | Wedding Vendor Search