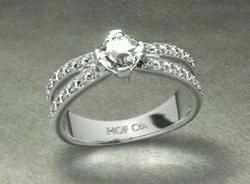 Whether you're a guy on the hunt for the perfect engagement ring or a bride-to-be in charge of choosing wedding bands, a second opinion never hurts—especially when it's from Paul Pastor, the president of Chas Schwartz & Son Jewelers (5300 Wisconsin Ave., NW, 202-363-5432; 1400 F St., NW, 202-737-4757). Chas Schwartz, which has been around since 1888, carries Hearts on Fire diamonds, pink diamonds, designs from super-elegant designer Michael Beaudry, vintage pieces, and other awesome jewelry. Paul—who is taking your questions now—is an expert on it all.
He got his start in the business at age nine, when he began to help his father at the family's antique-jewelry store. A few years after college, he joined Black, Starr & Frost jewelers in Southern California and became vice president of operations for the United States. He purchased Chas Schwartz & Son in 1984 and says helping future brides and grooms pick out rings is one of his favorite experiences in the jewelry business.
So let Paul enjoy a favorite pastime, and give him all the questions you've got! Submit now, and he'll answer Thursday from 11 to noon.
Want more Washingtonian.com online chats? Check out past Q&As with everyone from bartenders to other wedding pros, and submit questions to upcoming chats.
More>> Bridal Party Blog | Wedding Guide | Wedding Vendor Search