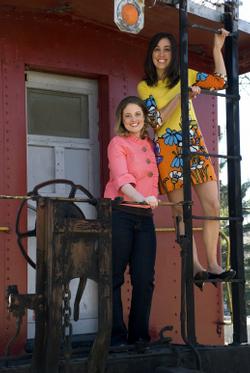 Sarah Meyer Walsh and Erin Miller own Haute Papier (1300 35th St., NW, Suite 1; 202-337-1623), a couture stationery studio in Georgetown. Couples can custom-design invitations from the Couture collection or go with a design from the ready-to-write Le Catalogue collection. Sarah and Erin are coming by The Washingtonian Thursday at 11 AM to answer your invitation questions.
Born and raised on a dairy and vegetable farm in upstate New York, Sarah earned her degree in political science from American University. In 2006 when she got a request from a fellow Junior League of Washington member in search of custom invitations for her wedding, she launched the company. The following year she brought on Erin, a fellow AU alum, to expand the business. Outside the world of invitations, Erin is a certified kayak instructor and Sarah publishes the District Domestic, a gourmet-food blog. Between them, they've completed four Marine Corps marathons.
From including starfish in the envelope for a beach-themed wedding to packing the invitation in a box of rose petals, Haute Papier helps couples welcome each guest personally. Submit your questions now, and Sarah and Erin will be here to answer them on Thursday at 11.
More>> Bridal Party Blog | Wedding Guide | Wedding Vendor Search