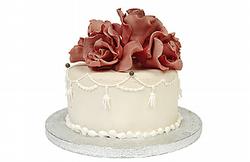 Thursday, June 19: Trunk Show at Riziks
Is your mom on the hunt for the perfect dress for your wedding? Plan a girls' outing to Rizik's (1100 Connecticut Ave., NW; 202-223-4050) to check out the Lourdes Chavez fall collection. Shop the entire collection of special-occasion wear, which is at the store today and tomorrow. Appointments are recommended but not required.
Friday, June 20: Take a Look—and Get Made Up
If wedding-dress shopping is on your to-do list, you might want to consider Best Bridal and Tailoring (4300 Chantilly Shopping Center, Unit 1Q, Chantilly; 703-378-3222). If you do some browsing tomorrow, you'll be rewarded with a complimentary hair-style and make-up consultation. When you're worn out from shopping, someone will play with your hair and do your make-up for free! Sounds good to us. Appointments are recommended but not required. Free; 12 to 5.
Saturday, June 21: Picture Perfect
Capture the moment—for less than you'd expect—at Winc Photography (5825 Stone Ridge Dr., Centreville; 703-395-8105) on Saturday. A fee of $150 will get you 20 images, burned on a CD, in photojournalistic or portrait style. Make it your engagement photos or pre-wedding dress shots for the bride-to-be–or even group pictures with the bridal party. Registration is required. $150; noon to 3. Send your name, e-mail address, and contact information to info@wincphotography.com.
Sunday, June 22: Cake Tasting
The third Sunday of every month, Custom Cake Design (8535 Ziggy Ln., Gaithersburg; 301-216-1100) invites couples (and anyone else who's hungry!) to an open house and cake tasting. View more than 50 wedding cakes and test some of the many cake flavors. Strawberry cream, key lime, and chocolate chocolate chip sound like a yummy Sunday afternoon to us. Free; noon to 4.
Know of an upcoming bridal event? E-mail lshallcross@washingtonian.com.
To read the latest Bridal Party blog posts, click here.