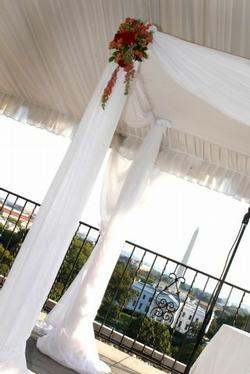 Thursday morning, wedding planner Jen Stiebel of SoCo Events in Rockville swung by The Washingtonian to answer your questions. And answer she did! She was so intent on giving thoughtful replies to brides- and grooms-to-be that she stayed an extra 30 minutes, busily typing away, showing her vast knowledge of all things wedding in Washington. We tried to keep her all day but thought her bridal clients might not like that.
What are the top bridal-gown styles of the season? What are the "and guest" rules? Where can you cut corners without sacrificing quality? If you missed the chat, check out yesterday's transcript and read Jen's best tips for wedding planning.
Next week, we'll be rocking out with DJ Chris Laich. More details to come, but start submitting questions now! Chris will answer them Thursday at 11.

Want more Washingtonian.com online chats? Check out past Q&As with everyone from bartenders to other wedding pros, and submit questions to upcoming chats.
More>> Bridal Party Blog | Wedding Guide | Wedding Vendor Search