This page describes the contents of an issue of Washingtonian magazine. Subscribers get exclusive early access through our print and digital editions. Most of our feature stories are later published online and linked below.
Buy a Single Issue
Subscribe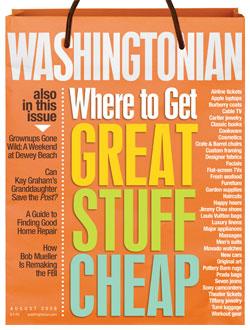 Volume 43, Number 11
Cover Story
best bargains

Everybody loves a bargain, and here are 26 pages of deals—on everything from art to furniture to Tiffany jewelry.
Features
Robert Mueller was sworn in as FBI director on September 4, 2001. A week later, his job—and the nation—changed forever. By Garrett M. Graff
Heroes at Play

For 20 years, photographer Simon Bruty has captured great moments and legends of sports—though not in ways you might expect. By Drew Bratcher
Katharine Weymouth is following in her grandmother's footsteps as head of the Washington Post. But she's a different kind of woman, and she got to the top in a very different way. By Harry Jaffe
Dewey Beach is where Washington singles—young and old—go to relax, drink, and find true love. Or at least a good one-night stand. By Denise Kersten Wills