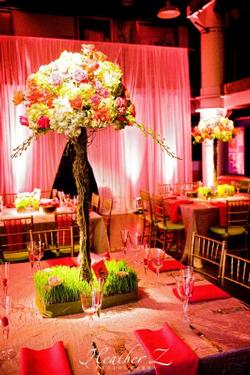 Wedding planner Laura Auer's passion for events started early. Her father is a professional photographer, and as a child, Laura loved looking at all the beautiful images he took of lavish parties. For college, she headed to James Madison University, where she earned a degree in hospitality with a concentration in special events. Creating the company Soiree Special Events was her final project during her senior year, and after graduation, she made the event planning company her full-time job. She planned 23 weddings in her first year in business.
Three years later, Laura and her team of eight planners are teaming up with a local stationery and gift company to create Wish Special Events, a new event planning company that will debut in September, replacing Soiree Special Events. Laura has more than 150 weddings under her belt, having planned events at DC wedding hot-spots including the Decatur House, Woodend Sanctuary, and the Torpedo Factory. What's Laura's typical client? "A normal person with a regular budget looking to make the most of their money and throw a wonderful party for their families and friends," she says. "We're very realistic for any bride or groom who need a helping hand. We are thrilled to make an important milestone in their lives an even happier one."
Got wedding questions? Laura's here to help. She's coming in for a live chat on Thursday. Submit your questions now and Laura will answer them from 11 AM to noon on Thursday.
More>> Bridal Party Blog | Wedding Guide | Wedding Vendor Search