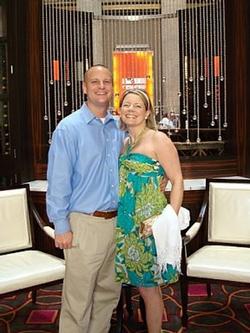 The wedding bells were already ringing when Liz Feore, 30, and Brian Cummings, 30, met. But they were for someone else's wedding. Liz, director of group sales at the Ritz-Carlton, and Brian, a project director for Barton Malow, met when Liz's sister, Jen, married Brian's UVa fraternity brother Tom. They met briefly at a barbecue a year before the wedding but really hit it off when the big day arrived. "From the first toast at the rehearsal dinner to the packing up of the presents on Sunday morning, we never left each other's side," Liz says. "It still seems too good to be true." Now, four years later, the former maid of honor and best man are planning their own wedding. And the matchmakers are returning the favor at Liz and Brian's wedding. Liz's sister is matron of honor, and her husband is Brian's best man.
When: Saturday, October 25
Where: Barboursville Vineyard outside of Charlottesville
Colors: Green and ivory
First dance: "Making Memories of Us" by Keith Urban
Honeymoon: One week in Hawaii, one week in San Francisco
First date: Dinner and the movie Dodgeball. During the scene where Vince Vaughn visits the home of his girlfriend, played by Christine Taylor, only to find her house is filled with unicorns, Liz squirmed because as a child she collected unicorns. "Not a single one remains to this day, but all I thought about was, 'Oh, if Brian only knew half of who I am, he'd probably think I was absolutely crazy!' "
First impression: Brian scored big by sitting down at Aunt Nancy's table at the wedding to keep Liz's aunt company. Brian thought Liz, who lived in Miami at the time, exuded the Miami "lifestyle," he says: "When we got to know each other, that first impression was proven quite incorrect."
The proposal: The afternoon they were supposed to drive to Virginia Beach to spend Christmas with Liz's mom, Brian said he had one more present to wrap. He took their puggle, Jersey, into a room and tied the ring to her collar. Then he opened the door, let Jersey run crazy, and pleaded for Liz's help in catching him. "When she finally got a hold of her, she saw the ring and I got down on one knee and proposed."
Most romantic gesture: For Brian, it was how much time and care Liz took in decorating their Arlington condo: "She really focused on putting a stamp on the place signifying that it was our new home—us as a committed couple."
For Liz, it was a surprise birthday trip to see a Rascal Flatts and Kenny Chesney concert only three weeks into their relationship. At the wedding, Liz mentioned how bummed she was that she couldn't buy tickets to the concert in DC because they went on sale the day of her sister's wedding. Brian was paying close attention. Soon after the wedding, Liz got a dozen red roses with a note telling her that in a few weekends she'd need to pack a bag and head to Dulles Airport. When the weekend arrived, Liz headed to Dulles, put her credit card into the kiosk, and found out she was flying to Raleigh. Raleigh? she wondered. When she arrived in North Carolina, there was Brian, waiting for her in a limo with two tickets to Rascal Flatts and Kenny Chesney. "Brian is by far the most romantic man I have ever met," Liz says. "I really am spoiled."
Favorite date spot: A long drive through the country, ending at a Virginia vineyard.
Their spot: A bench in Arlington a block from their condo. "It's the perfect bench on the perfect street," Liz says. "We always think that it belongs in Europe and ended up in Ballston by accident."
The worst name he's ever called her: "Gross."
The sweetest name she's ever called him: "My fiancé. When I call him that, it reminds me that he is here to be my husband and I am the luckiest I have ever been in my life."
One thing others would be surprised to know about: Brian's sensitivity. "Sometimes guys get a bad reputation for not being sensitive, but Brian's got the perfect amount!"
The one thing they'll make sure not to miss at the wedding: "The cake!" Liz says. "I can never have enough!"
We'll be running new Save the Date columns every Tuesday that showcase fun local couples that are getting married. Are you getting married—or know someone who is? We'd love to hear from you. E-mail lshallcross@washingtonian.com with a love story you think is worth telling.
More>> Bridal Party Blog | Wedding Guide | Wedding Vendor Search