This page describes the contents of an issue of Washingtonian magazine. Subscribers get exclusive early access through our print and digital editions. Most of our feature stories are later published online and linked below.
Buy a Single Issue
Subscribe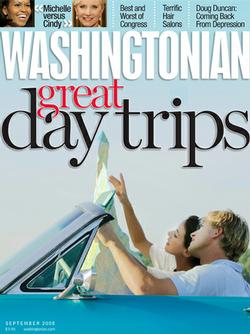 Volume 43, Number 12
Cover Story
great day trips

Whether your idea of fun is a country picnic or fine dining, city shopping or a crafts fair, a long hike or easy biking, a New York museum or a winery (we found 19 great vineyards), here are 24 pages of fall pleasures.
Features
Avedon's Washington
For half a century, the legendary photographer turned his lens on powerful people in the nation's capital.
The would-be first ladies are very accomplished but also very different in personality and style. By Susan Baer
Who's the smartest member of Congress? The meanest? The best-looking? Top aides on Capitol Hill tell all.
Cutting off the tops of mountains is a cheap way to mine, but it's changing the landscape and may be endangering lives. By Brooke Lea Foster and Cindy Rich