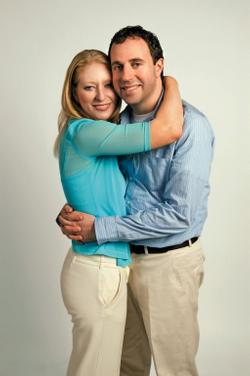 "Listen, baaaaaby!"
Sean Bethel belted the first two words of "Ain't No Mountain High Enough" into his plastic microphone, then ran out to the dance floor, sliding to a halt in his black socks. He spun around, singing the lyrics as his new wife, Jen, joined him. As far as first dances go, he says, "it was fabulous."
When Jen met Sean in 2000—mutual friends introduced them—she was a straight-A, clean-cut 19-year-old headed back to James Madison University. Sean, as Jen describes him, was "this huge hippie—long, curly hair, worked at a bike shop, didn't go to school, played guitar in his little bachelor pad in Woodbridge."
Jen called him "shady Sean." She never thought they would date.
After Sean warned her against seeing a guy who turned out to be dishonest, she began to change her mind. Dozens of phone calls later, she agreed to let Sean visit her at JMU.
"You'll know it's me because I'll be arriving in my lime-green VW bus," he told her.
Oh, my God, Jen thought. But that weekend they kissed for the first time.
The next year, when Jen transferred to the Savannah College of Art and Design and the September 11 tragedy prevented her dad from flying in for her first day, Sean hopped into the VW bus at 4 in the morning and drove nine hours to be with her. He knew that Jen, who was born with a visual disability, was nervous about navigating a new campus by herself.
Sean moved to Georgia soon after, where he managed a bike shop while Jen earned her degree.
"I had been wanting to go back to school for a long time, and Jen inspired me to start classes again," says Sean, who just finished his coursework at Marymount University and will begin student-teaching in the fall. "She knew from the time she was a little kid that she wanted to be a graphic designer. Despite all the odds, she still graduated magna cum laude."
Because Sean loves biking but Jen's vision problems prevent her from riding on her own, the Arlington couple bought a tandem bike and cruise the Washington & Old Dominion Trail together. Jen's love of dancing prompted Sean to learn the routine for their wedding last September.
"When Sean is next to me, I can laugh and be silly," Jen says. "My family always jokes that they can't believe I watch The Simpsons and South Park now—and actually enjoy them."
Engaged or married—and have a Love Story just dying to be told? E-mail lshallcross@washingtonian.com.
Related:
Washingtonian Wedding Guide
Read All Love Stories
More>> Bridal Party Blog | Wedding Guide | Wedding Vendor Search