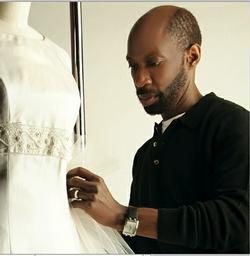 As any bride can tell you, finding the perfect wedding dress can be like finding a needle in a haystack. To answer some common questions, The Washingtonian turned to New Couture owner Alvin Thompson, a Washington native who is currently showcasing his latest collection of bridal wear at DC Fashion Week.
When did you first become interested in designing bridal wear?
I had promised a client I would do the wedding dress for her daughter, but at the time I wasn't specializing in bridal. The mom of the bride told me I'd have to tell her daughter I couldn't do it, but then she convinced me to do it. At one of the sittings, her maid of honor came in and said, "Oh, this has been such a wonderful process. When I get married, will you do my dress, too?" And then she got married a year later. I wasn't feeling artistically satisfied doing general custom design, and doing bridal allowed my artistic sensibility to come alive again because the only restriction in bridal is that it's in a range of beiges or pastel tones. I fell in love with it and have been doing it since then.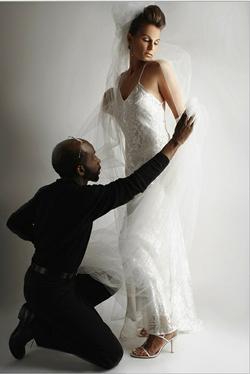 What is the most popular question a bride has asked you?
Can you make my hips looks smaller?
Spaghetti straps versus strapless—your opinion?
I think that strapless is really a phenomenon in the industry in that the bridal gown is all about chaste and virginal themes. Strapless dresses in current history have not had that association with that, but I think women enjoy the freedom that comes with a strapless cut. I am finding that clients want the openness of strapless, but the last four or five dresses I've done have had a tiny strap. Brides have gone to their friends' weddings and everyone has done strapless, so they want something different. My personal aesthetic is that spaghetti straps gives a little frame for the bride's face.
What do you see for the future of couture?
There will always be the need for designers. However, the cost of putting together a collection and then getting stores to carry your line is increasingly difficult. As more and more celebrities enter the marketplace with lines bearing their names, it gives instant name recognition to their product, so the chance for new talent breaking into the marketplace is becoming more difficult.
What styles of gowns do you predict will be "in" for brides planning a wedding in, say, 2010?
The glamour of Hollywood's golden years and our current fascination with red-carpet dressing ensures the life of the bridal train. Colors are stronger now and will no doubt tempt more brides into seeing color as an option. Movement is everywhere, and as we all live a more casual lifestyle, brides will no doubt seek gowns with more natural movement.
Shades of white aren't the only option when it comes to gowns?
The white dress was introduced during the Victorian era with the marriage of Queen Victoria. Prior to that time, a wedding dress reflected the current fashion trends and the financial status of the bride's family. White and all of its 100 variations will continue, but more and more brides are moving to color in their wedding dress.
What is the most outrageous thing a bride has requested for her gown?
One bride wanted to wear purple cowgirl boots.
With a tough economy, many women can't afford to spend as much money on their wedding as they would like. Are couture dresses affordable for the average bride?
Brides will spend less on their dress but will request something reflective of their personality. More local talent will be utilized as designer prices rise and all of the gowns tend to look the same.
Which of the designer bridal gowns featured in the Sex and the City movie was your favorite?
It is about fashion, and fashion is generally about being over the top and changing what we think about stuff, but I thought they were all kind of wrong for Sarah Jessica Parker. They were all too much for her character. I actually liked the suit at the end—I thought that was kind of appropriate. For me, the bride is really the central character in the opera.
Who is your dream celebrity client?
The person I am currently designing for! The dress I am currently designing is always my favorite because though it reflects the bride's personal style, it's also reflective of all the brides that have come before her. When a bride entrusts me with the awesome responsibility of creating the dress for her special day, she's the celebrity of the moment for me.
Expectations for DC Fashion Week?
I have the highest hopes for DC Fashion Week. Here in DC it is more about showcasing trends. The area has little support for designers, and buyers are not likely to make a special trip to Washington because there are not enough designers to warrant a trip here to buy. I see it as an opportunity to get Washingtonians to think a bit outside of the Beltway boss.
More>> Bridal Party Blog | Wedding Guide | Wedding Vendor Search