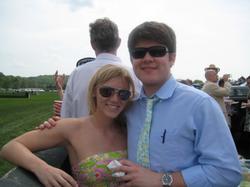 Whoever said high-school crushes don't last must not have met Anne Crum and Mike Kelley. The pair met at the Army Navy Country Club in Fairfax when they were both 16. Mike was playing a round of golf with his best friend, and Anne was working a summer job in the pro shop. "When I saw Mike walk into the shop," says Anne, 24, "I remember thinking that he was so good looking and carried himself with such confidence." Mike, 25, was equally smitten: "After checking in with her and having a brief conversation, we walked outside, and I turned to my buddy and said, 'I'm going to marry that girl.' "
Eight years of dating later, Mike, a Capitol Hill staffer, was setting the stage for that to happen. He called Anne's parents to ask their permission to marry her, and they gave him a resounding yes. So he took his grandmother's diamond and had it reset for Anne, an account executive at Sara McGregor's Capitol Catering. "When my grandmother was still alive, she'd always tell Anne that her diamond would be Anne's someday," Mike says. "I know my grandmother would've wanted her to have it. I miss her every day, and it's nice to see the diamond and think of her."
On March 8, Mike picked up the new ring from the jeweler. He'd thought about doing something romantic to propose but knew Anne would be on to him. So when she came over later that afternoon, he suggested they sit down on the couch to talk. "I actually got kind of nervous thinking something was wrong," Anne says. Mike told her he couldn't imagine the rest of his life without her, and he pulled the ring out of his pocket. "I remember thinking that the moment was so surreal," Anne says. "I think I just kept saying over and over again, 'Seriously?' It took a second for me to realize that this was really happening, and of course I said yes!"
For some, young love comes and goes. For Anne and Mike, love came and stayed. The same summer she met Mike, Anne wrote in her journal that she was going to marry Mike. In May, that's exactly what she's going to do.
When: May 9, 2009.
Where: Ceremony at Saint Aloysius Roman Catholic Church in DC, reception at Congressional Country Club in Bethesda.
Colors: Pear green and sky blue.
Food: Even though Anne works in catering, she admits that the food portion of the celebration is still up in the air. She says the menu will most likely include crab cakes, tenderloin, and a signature cocktail.
Music: The band Fresh Air.
First dance: "Me and You" by Kenny Chesney.
Honeymoon: In St. John.
First date: Group date with friends to watch Fourth of July fireworks at Langley High School in McLean.
Most romantic gesture: Mike used to leave Anne notes and roses on her car in high school, and in college while they dated long distance, he'd send her love letters. "I still have all the notes he left me and love to go back and read them," she says.
Silliest fight: Anne is a back-seat driver, Mike says. "Our silliest fights are probably when we're both too stubborn to admit the other person is right," she says.
Favorite date spot: Pucinella's Italian Restaurant in McLean, where they used to go on dates in high school.
Worst nickname: Anne calls Mike "Annoying." He calls her "Lord Belly"—an inside joke, he says.
Sweetest nickname: "My future husband," Anne says. Anne Kelley, Mike says.
One thing others would be surprised to know about Anne: "I just learned that she's a big fan of Bob Saget," Mike says. "She might be the only one, too."
One thing others would be surprised to know about Mike: That he's an excellent singer and dancer, Anne says.
Personal stamp on the wedding: The shamrock Vineyard Vines ties that Mike and his groomsmen will be wearing. "I'm Irish, and I have a bordering-on-unhealthy obsession with Vineyard Vines."
Check back here every Tuesday for Save the Date columns showcasing fun, local couples who are getting married. Are you getting married—or know someone who is? We'd love to hear from you. Email lshallcross@washingtonian.com with a love story you think is worth telling.
Want more Save the Dates? Read them here.
To read the latest bridal party posts, click here.