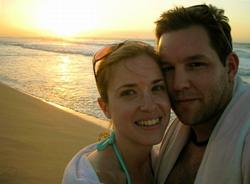 Four years ago, Laura LoGerfo and Vincent Pickett ended up together at the gay-pride parade through a mutual friend who had just moved to DC. "Vincent was with his girlfriend at the time, expressing quite explicitly that he was straight," Laura says. And Laura was there with her boyfriend, whom Vincent took to be her brother at first glance. Vince piqued Laura's interest, but their mutual friend steered her away.
"I queried our mutual friend about Vince—cute, smart, funny?" says Laura, 32. "Our friend didn't want to be caught in the middle of social-network warfare if we tried to date and it failed." Understandable, but that just made the fire flicker brighter, Laura says. "Thus, enter the great chemistry maker of forbidden love."
Over the next year, the two would run into each other at parties and gatherings. Over Columbus Day weekend in 2005, Laura and Vince planned to go to Chicago with a group of their mutual friends. They'd both gone to college there—at different schools at different times—so planning a weekend eating at favorite restaurants and going to favorite bars got them talking and e-mailing back and forth. "I discovered that we had the same sense of humor and similar interests," says Vince, 29. "When I realized that I was spell-checking my e-mails and proofreading them, and they weren't work-related, I thought that this might be the beginning of something special."
The plans were almost derailed when Vince was offered a last-minute free trip to a wedding in Hawaii. "I convinced him to forge ahead with Chicago," says Laura, a research scientist and project officer at the National Center for Education Statistics. "Hawaiian beaches? Who needs 'em?" As they packed their bags for Chicago, both Laura and Vince knew they were interested in each other, but they were cautious about starting anything. "Since we had a very good friend in common, I think I wanted to make sure that if something did happen, she'd be the type of girl that could handle a friendship down the line if it didn't work out," says Vince, a special-projects officer at the US State Department's Bureau of Educational and Cultural Affairs.
But fate took over. The sparks flew in Chicago, and a week after they returned, Vince took Laura to a U2 concert on their first official date.
To break the news to their hesitant mutual friend and their other friends, Laura and Vince issued a press release. "To all interested parties," read the release, dated October 27, 2005, "who, through various media outlets (e-mail, phone, press conferences) continue to ask questions, e.g. 'Have you heard about Laura and Vince?' or 'What's going on with Vince and Laura?' The answer is clear: 'Something.' "
Three years later, that something is still going on, and it's only gotten better.
When: August 29, 2009.
Where: Chicago.
Music: A jazz trio or an iPod playlist. "No 'YMCA,' chicken dance, or AC/DC, thanks," Laura says.
Food and drinks: Heavy hors d'oeuvres, wine, Champagne, and a few favorite cocktails—probably lavender Champagne cocktails and mojitos.
Cake flavors: Raspberry and vanilla—and no fondant.
Honeymoon: "We're planning a brief honeymoon directly after the wedding weekend at a secret, undisclosed, tropical location," Laura says. An official honeymoon will follow on the couple's one-year anniversary.
How he proposed: At Laura's family's summer home in New Brunswick, Canada. Sitting on a bench overlooking a bay, Vince starting telling Laura how much he loved her and how he envisioned their life together. "He's wonderful like that all the time, so I thought he was just stalling before reading his own book," she says. "Suddenly, he was on his knee asking me to marry him. I thought it was another faux proposal, one of the proposals we do in the line at the grocery store or with friends at a bar or during Thanksgiving dinner. But instead of laughing, he pulled out a ring—a real ring. After a minute or five of my screaming, 'Are you serious?' he gently directed me to actually answer the question. Answer: Of course."
First impression: Hot, confident, really smart, very witty, absolutely fun, Laura says about Vince. "I thought she was attractive, a lot of fun, and smart," Vince says. "Our banter had the same humor and meter."
First date: In order to hand over the ticket to the U2 concert, Vince made Laura listen to a CD and discuss which song was her favorite and why. "I composed a very thoughtful essay on several songs on the album," Laura says. "I apparently passed, and he revealed he held tickets—and not just any tickets, but the tickets in the inner ring on the first night of the tour."
Romance, Vince style: Their first Valentine's Day together came a few weeks after Laura's father suddenly passed away. Vince was a "prince," she says, taking care of her and her mom. Valentine's Day could have easily been forgotten, she says, but he surprised her with dinner and all the traditional Valentine's gifts, but in clever ways—like gourmet baking chocolate because Laura likes to bake.
Romance, Laura style: "I should find out this year," Vince says. "Apparently I need to take a few days off work around my birthday—I'm turning 30. Laura, no pressure!"
Favorite date spot: Vinoteca for a glass of wine.
Nicknames: "We don't really call each other names," Vince says. "I tried for LaLo—LA-ura LO-gerfo—after reading about Lindsay Lohan being called LiLo on some Hollywood-insider blog. Needless to say, that name got shot down."
One thing others would be surprised to know about Vince: "He can come across to most people as amusing but surly, raffish, pessimistic," Laura says. "But the surprise? Vince makes and takes such fun in life. His sharp, dry wit makes me laugh constantly and can provoke a smile and giggle fits at even the worst moments."
One thing others would be surprised to know about Laura: "For those who knew her from when she was a kid, they'd remember her as being sort of a nerd," Vince says. "Now the girl is a bona fide athlete and wears shirts like 'Baby Got Book' and 'Reading Is Sexy' to taunt boys at the gym."

When Vince knew they were meant to be: "Shortly after the Chicago trip when we became inseparable."
When Laura knew they were meant to be: "By the second week of dating, I knew that I didn't ever want to be apart from him."
Check back here every Tuesday for new Save the Date columns showcasing fun, local couples who are getting married. Are you getting married—or know someone who is? We'd love to hear from you. E-mail lshallcross@washingtonian.com with a love story you think is worth telling.
Want more Save the Dates? Read them here.
To read the latest Bridal Party blog posts, click here.