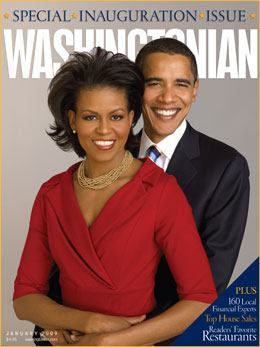 Volume 44, Number 41
Cover Story
Inauguration Special
Welcoming the new first family.
Photograph by Kwaku Alston/Corbis Outline.
Features
2008 Washingtonians of the Year
People who give their time and talent to make this a better place for all. By Leslie Milk and Ellen Ryan.
Top House Sales
The best—and worst—real-estate deals of 2008.
160 of the area's best financial planners, wealth managers, accountants, and estate attorneys. By Deborah Knuckey.
Inauguration Special
Barack Obama Takes His Place in History
The New President's Ties to the Region
Visions of Obama by Washington Artists
Malia and Sasha in the White House
Schoolkids Draw the Darnedest Things
Magic Moments: The Campaign in Photos
Secrets of the White House
What Washington Can Learn From Chicago
Restaurants, Shops, and More to Remind the Obamas of Home
20 People Who Matter
---