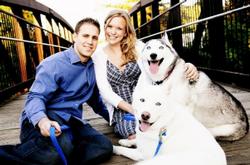 I'll start with this simple statement: I'm not photogenic. I love taking pictures and I don't really mind being in pictures, but I'm not what you'd call a natural when the flash goes off. If I'm taking a photo at a party, that's no problem. However, as soon as I'm aware that the picture is important, I tense up.
We all know that weddings are all about photos, so finding a photographer who could make me feel comfortable in front of the camera was definitely an important mission for us. My lovely fiancé is blessed with the ability to look like an Abercrombie model in almost every picture, so he left this decision for me to handle on my own. I turned back to the trusted Knot message boards for recommendations, and after a few conversations with various vendors around the area, I decided on the services of Rachel Naft.
As soon as I met her, I felt instantly comfortable, and her prices were incredibly reasonable compared with those of other photographers. We signed a contract and set up the time and date for our engagement photos, also known as the test run in front of her lens.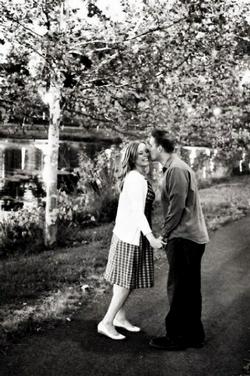 Rachel certainly had her work cut out for her, and not just because of my nerves in front of the camera. My two dogs were going to be in our engagement photos, and getting two hyper huskies to smile and look pretty isn't an easy task. Enlisting the help of bridal-party members Mike and Erin, we headed to Brenman Park in Alexandria and hoped for the best.
I can't put into words how unreasonably nervous I was to take these photos. Both Andrew and I had decided we wanted to include photos in our save-the-dates. Just thinking about all the people who would see these pictures made my stomach twist into knots. And sure, I've lost 40 pounds, but I'm still not exactly a size zero, so I was super paranoid about looking heavy on film.
All of these thoughts were zooming in my head, and you can see it on my face in the first 10 or 15 frames. But Rachel was great. After she saw how nervous I was, she made Andrew and me focus on the dogs and look at each other, and it made things so much easier. As the minutes passed and the camera kept clicking, the photos got better and better. Sure, there were a few mandatory photos of us looking at the camera with our arms around each other, but most photos were unique angles or involved the dogs, which made us look great and, more important, relaxed.
Rachel sent us every photo she took, and I was blown away. There were so many that we could use for our save-the-dates, and I really felt that Rachel captured our relationship on film. We didn't look like supermodels or anything, but we looked, well, in love. And what else can you ask for from your engagement photos?
Lisa Marie, a local bride-to-be, writes every Friday about planning her wedding, which will be in Washington in July. To follow her adventures from the beginning, click here.
If you like reading about Lisa Marie, make sure to check out our other blogging bride-to-be, Eleni, who writes every Wednesday. Follow her adventures here.
To read the latest Bridal Party blog posts, click here.