This page describes the contents of an issue of Washingtonian magazine. Subscribers get exclusive early access through our print and digital editions. Most of our feature stories are later published online and linked below.
Buy a Single Issue
Subscribe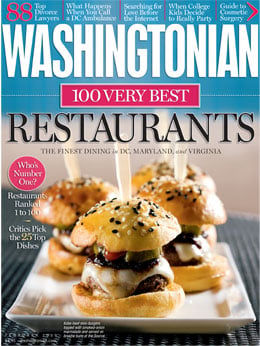 Volume 44, Number 5
Cover Story
The finest dining in DC, Maryland, and Virginia—ranked in order. Plus—who's incoming and outgoing, the top 25 dishes, 30 great values, what's in and what's out, and more.
Photograph by Stacy Zarin-Goldberg.
Features
Joe Biden's life has been full of surprising highs and extraordinary lows. By Nancy Doyle Palmer.
College kids still drink and stay out late, but now they face tougher rules and nasty online rumors. It's enough to make you glad you've graduated. By Sonia Harmon, Hillary Jackson, and Lauren Sloat.
This was a different place when Abraham Lincoln lived here, but his spirit lives on. By Ernest B. Furgurson.
A down economy makes couples unhappy. Here are 88 lawyers who can help settle things. By Kim Eisler and Leslie Milk.
After years of bad blood between District firefighters and emergency medical personnel, DC's system is still broken. The suburbs do it much better. By John Pekkanen.