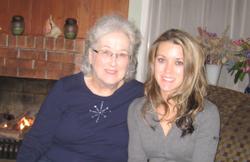 The dress is such a big—and fun—part of the wedding that it really deserves another mention. After trying on a hundred or so dresses and viewing thousands online, Tiffany had still not found a dress that was the combination of design elements she wanted in her wedding gown, so she turned to her grandmother, an expert seamstress, and together they began to build the dress.
I know next to nothing about sewing. But I've watched my mom create the most gorgeous designs over the years, and I have an appreciation for what it takes to produce quality items. It's a gift, a talent, a skill, and an art. My mom is a gifted, talented, skilled artist.
The first thing Tiffany and her grandmother did was find a pattern. Two patterns, actually—because one had the silhouette Tiffany wanted but no train. The train from the second pattern was wed with the first pattern, which is not as easy as it sounds.
Once that wrinkle was ironed, my mom made a prototype dress out of cotton. It was used for fitting, changes, alterations, and tweaks. Using the prototype provided Tiffany the opportunity to be certain she wanted this exact dress without sacrificing fine fabric in the process. The prototype underwent several renditions. The neckline was changed, then changed again, and then changed just a tad more.
Once the prototype was perfect, it was time to buy the fabric. We went to G Street Fabrics, which has one of the best selections of bridal fabrics in Washington. Tiffany, my parents, and I went together. We made a day of it, going first to try on a few gowns, then stopping for lunch on our way to the fabric store. It was a fun and special day. After settling on a gorgeous Italian silk satin, we gathered up our notions and were on our way. This was the point of no return.
The dress was ready in December, and over the Christmas holiday there was a final fitting. A few small alterations were needed, and those have been completed this week. It's gorgeous. Just perfect.
Now we've moved on to the bridesmaid dresses. Tiffany's maid of honor is freakishly tiny (sorry, Sarina, but it's true). The only bridal-party dresses we could find to fit her were junior-bridesmaid styles, and she'd end up looking like a flower girl. So my mom is also making the attendants' dresses. So the same process ensued—the prototype for fitting and this week the purchase of the fabric. They'll be so pretty!
People have asked me what I'm going to wear. Because I hadn't thought about it at all, I was a little embarrassed to answer, "A dress?" I felt delinquent in my dress search and that I needed to step it up a bit. Now that the bride and attendant gowns are well on their way, I can think about a dress for myself.
Like so many other aspects of wedding planning, deciding on a mother-of-the-bride dress has been an education for me. It has been fun looking at all the options out there but overwhelming at times, too.
Bridal shops have a section for mother-of-the-bride gowns. I looked at some of the dresses in the shops Tiffany and I visited. I searched online. I thought about what I do and don't want in a dress—the color, hemline, neckline, and sleeve. Nothing jumped out at me. I searched for vintage dresses but still didn't find anything.
I was at the fabric store one day picking up something for my mom and decided to look through the pattern books. And there it was in this season's Butterick book! So it looks like my mom has one more dress to sew. I'm going to continue looking for a backup in case Mom runs out of time or energy. But if she hangs tough, as she's known to do, then the bride, attendants, mother of the bride, and grandmother of the bride will all be donning one-of-a-kind dresses by Memaw.
How special is that?
Amanda, a local mother of the bride, writes occasionally about helping to plan her daughter's wedding, which will be in the spring. To read about her adventures from the beginning, click here.

To read the latest Bridal Party blog posts, click here.