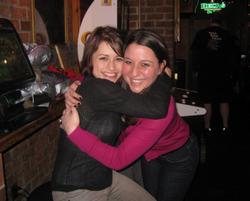 Hello! I'm Jillian, one of the lucky few that Eleni hand-picked to be in her wedding. I couldn't be happier for Eleni and Ron—they're such lovely people. Although I'm extremely excited to be a bridesmaid in this fancy affair, I'm no novice. Not including my stints as a flower girl, I've been a bridesmaid in three other weddings.
The first was my sister's wedding when I was 17 years old. I was the maid of honor in name only. I was more concerned about getting my braces off than I was about what color scheme my sister was going to pick.
My sister, like Eleni, had a big wedding party. My brother-in-law comes from a family of nine, and I come from a family of five, so when you include all siblings and throw in a few cousins, you have a wedding party the size of a small army. To this day, I have no idea how my sister pulled it off.
She had a useless maid of honor, a diagnosed schizophrenic bridesmaid, and a 250-person wedding to plan—all without the Internet. God bless her because the sage-colored linen dresses she picked were simply beautiful. For our gifts, she gave each of us a silver necklace that held a pearl in a basket. I still wear it ten years later.
My sister chose to get a photographer and a videographer. I looked through her wedding album during one of my recent trips home, and the pictures are gorgeous. The layout is a little dated, but the story of the day is still captured beautifully. On the other hand, the wedding video is collecting dust in some corner of my sister's busy household. I have yet to see it, and if I haven't seen it, then it was a big waste of money.
My second tour of duty was for a close cousin who has since divorced the groom. Not to put a damper on a bridal blog, but the marriage was over before the first chord of the wedding march. For the extremely short ceremony, I walked down the aisle wearing a giant lavender prom dress. It had a huge skirt with rhinestones on the straps and neckline.
To make it even more of a fairy tale, the bride had each of her bridesmaids buy four-inch silver strappy sandals. I was 19 and in college at the time. I thought it was fabulous that I didn't have to buy a new pair of shoes because—guess what—I already owned a pair of four-inch silver strappy sandals.
Then, almost three years ago, a longtime friend asked me to be in her wedding. She was my best friend in high school, but a boyfriend (the groom) and time (she never called me back) came between us. We had recently reconnected, and I was thrilled to be asked. Her maid of honor was her college-age sister and the other bridesmaids were his sisters—which left all the heavy lifting to me. For this Boston-area wedding, I planned the bachelorette party from DC. It wasn't easy with a bridal party that was incommunicado. I got it done, and everyone who mattered had a great time.
For this wedding, I wore a two-piece, wine-colored satin dress with chiffon draping at the neck. It wasn't a complete disaster, but it wasn't pretty either. To top it all off, the bride gave each of us a gold necklace with a three-tiered stone charm. The stones were heart-shaped and red, pink, and light pink. I think I accidentally lost it after the wedding.
What have I learned in all my times being a bridesmaid? It's way more fun being a bridesmaid for a bride who's truly excited about being a bride. These brides love to include you in the planning and really make you feel like a vital part of making their day the very best.
Eleni, a local bride-to-be, writes every Wednesday about planning her wedding, which will be in Washington in the spring. To follow her adventures from the beginning, click here.
If you like reading about Eleni, make sure to check out our other blogging bride-to-be, Lisa Marie, who writes every Friday. Follow her adventures here.
To read the latest Bridal Party blog posts, click here.