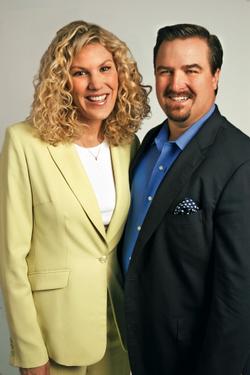 As executive director of Americans for Fair Trade, Ernest Baynard spent the first few months of 2005 making appearances on CNN and CNBC, speaking out against a Central American trade deal.
At the Department of Commerce, senior adviser Lindsey Dickinson spent her days fighting for the proposed agreement. All's fair in love and war—and this time, it was both: Baynard and Dickinson had been dating for two years.
The couple, who live in DC, met backstage at the 9:30 Club in November 2002. Ernest was friends with members of the evening's band, Galactic, and Lindsey had won a radio contest to meet the band.
"I found out he was a Democrat in our first conversation, and it didn't bother me," says Lindsey, now senior director for federal-government affairs at Comcast. "It was nice, actually, meeting someone who wasn't part of the Bush administration but still shared some of my interests."
They both saw the band again the next night, and Ernest called Lindsey that Monday. They went on a few dates, but the romance started when they parted ways for the holidays. While home with her family in Vermont, Lindsey was impressed to see a quote from Ernest in Time magazine—and touched that he called her on Christmas. From the night they got back to DC, they were a bipartisan couple.
Lindsey's a McCain supporter; Ernest, a former Clinton-administration staffer who now runs Meridian Hill Strategies, is voting Democratic. But when they watch debates, they often spend more time analyzing the candidates' performances than their platforms. They have friends from both sides of the aisle; Ernest had a Republican in his wedding party.
"It's kind of the way it used to be in this town, where you fight it out on the floor, but at the end of the day you're friends," says Ernest, whose grandfather was a congressional chief of staff. " We've lost some of that. But Lindsey and I are trying to bring it back."
At the rehearsal dinner before their May wedding, they handed out bumper stickers that read dickinson baynard 2008.
Engaged or married—and have a Love Story just dying to be told? E-mail lshallcross@washingtonian.com.
Related:
Washingtonian Wedding Guide
Read All Love Stories
More>> Bridal Party Blog | Wedding Guide | Wedding Vendor Search