This page describes the contents of an issue of Washingtonian magazine. Subscribers get exclusive early access through our print and digital editions. Most of our feature stories are later published online and linked below.
Buy a Single Issue
Subscribe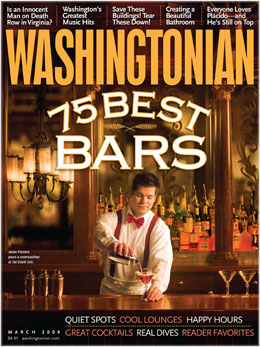 Volume 44, Number 6
Cover Story
We ordered drinks, sampled snacks, and checked out hundreds of area establishments—all to find the hottest spots on the after-hours scene.
Photograph of bartender Jason Parsons at Old Ebbitt Grlll by Cade Martin.
Features
At 68, the world's most famous tenor keeps on singing—and conducting and coaching and fundraising. His fans at the Washington National Opera hope he keeps on doing all that right here. By Cragg Hines.
Owen Barber shot Danny Petrole dead and told a jury that his friend Justin Wolfe had hired him to do it. Barber cut a deal with prosecutors. Wolfe got the death penalty. By Drew Lindsay.
Preservationists have gained the upper hand in protecting historic buildings. But do examples of modern architecture deserve the same respect as the great buildings of the past? By Larry Van Dyne.