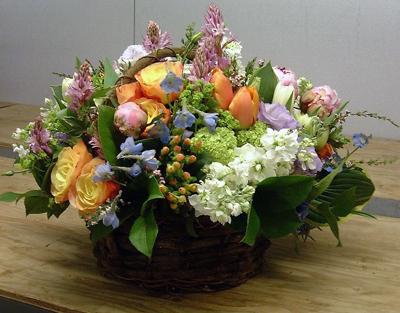 Without question, Mother's Day is all about spring flowers, says Tracy Callahan, owner of Bethesda Florist. "On any other day, a typical guy will think of roses," says Callahan, whose father opened the flower shop in 1959. "Mothers want the colors: the hydrangeas, the lilies, the tulips, the irises, the freesia, the Gerbera daisies."
With flowers from more than 15 countries, including the Netherlands, Israel, Argentina, and Singapore, Callahan's shop offers a wide variety of arrangements to choose from. The most popular style this time of year is what Callahan calls "Dutch-style": tulips, irises, freesia, and hydrangeas, usually imported from the Netherlands—hence the name.
Prices for these arrangements range from $65 to $150, although it's not unusual for customers to ask for elaborate $1,000-to-$1,500 orders, he says.
If that's way out of your price range, never fear. It's the thought that counts, and Callahan likes to reward the thoughtful.
"We get a lot of younger high-school students who come in to get a single flower wrapped in paper," he says. "It's just so sweet, and the fact that they even made the effort is really great. Small bouquets are around $5.50, but we'll give them a single stem for $1."
Bethesda Florist, 4834 St. Elmo Ave., Bethesda; 301-656-8200.
Want a Mother's Day gift that will last longer than your typical arrangement? Stacie Lee Banks of Lee's Flower & Card Shop has noticed that orchids are becoming more popular.
"People want them because they are very long-lasting," says Banks, who has been working for nearly 35 years at the shop that her grandparents founded in 1945. "People don't mind spending a little bit more because they last longer."
Teapot arrangements, in which an actual teapot is filled with flowers, are popular for the same reason: "When the flowers are gone, you still have the memory of the gift," Banks says. These range from $35 to $55.
Other creative gift ideas that Banks recommends are wicker baskets filled with African violets or a flowering kalanchoe, a succulent choice. But, Banks says, for mothers who are more traditional, stick to the basics—azaleas, gardenia plants, and hibiscus. "Choose flowers you know your mother will like."
What will Banks get her mother? Orchids, of course.
Lee's Flower & Card Shop, 1026 U St., NW; 202-462-6054.
A more romantic choice for your sweetheart might be a stargazer-lily arrangement with red roses from the Blossom Shop in Alexandria.
Acting manager Sheila Cianciolo says the arrangement has been one of the store's most popular. The large white lilies have a wonderful scent, she says, and their reddish-pink centers blend beautifully with the roses. The arrangement is $75 plus $12 for delivery. Other popular choices include gourmet chocolate and candy baskets, which customers can decorate with any combination of flowers.
"I'll probably get my mother a nice candy basket with flowers in the center," Cianciolo says.
The Blossom Shop, 7906 Fort Hunt Rd., Alexandria; 703-768-0050.
Phil Caruso of Caruso Florist says the holiday is all about what people see growing in their own gardens.
"I think the mixed bouquets are more beautiful than anything," says Caruso, who has been working at his family's business for 64 years. "It's all very cheerful, and that's what Mother's Day should be. The Gerbera daisies are lovely, and they come in all different colors, like a rainbow. Who knows? Maybe there's a pot of gold at the end of it."
Mixed bouquets at Caruso start at $50, while smaller bouquets start at $12.50 and can be made and delivered in the same day.
"Our slogan is 'Rain or snow or six below, we go,' " he says. "We might doze, but we never close."
Caruso Florist, 1717 M St., NW; 202-223-3816.
If you're looking for a "greener" flower, Karen Ball of Wood's Flowers and Gifts in College Park recommends lilacs.
"Lilacs are always a big hit because they're so fragrant," she says, "and they're in season right now, and that's always better environmentally."
Wood's imports flowers from all over the world, but whenever possible Ball buys from local growers. In the past few weeks, the shop has received many lilacs, tulips, and daffodils from close by.
Another popular springtime bloom is the colorful snapdragon, Ball says: "Lilacs and snapdragons help us make cheerful arrangements that really make a statement." A bouquet with lilacs and snapdragons as well as "filler flowers," such as heather and asters, start at $50.
For a more budget-friendly option, Ball recommends getting a few elegant flowers—such as lilacs, tulips, irises, or roses—and mixing them in a bouquet with more traditional standbys such as daisies and carnations. Those arrangements can start at $35.
"That way, you're getting more flowers for your money, and you get the best of both worlds," she says. "You get the colorful, vibrant flowers and the long-lasting flowers which will be there when the other ones have gone."
Wood's Flowers and Gifts, 9223 Baltimore Ave., College Park; 301-474-7000.
Does your mom have a green thumb? Then maybe you should skip the bouquets and opt for potted plants.
Landscape designer Joshua Dean inherited his love of peonies from his mother, so it's no wonder he recommends them as the perfect flower for Mother's Day.
"They come in many, many vibrant colors," says Dean, who works at Merrifield Garden Center in Falls Church. "Some are extremely fragrant, like the festiva maxima, a white peony with little shoots of magenta."
Combining peonies with another bright flower, the baptisia, would create a wonderful combination for any garden, he says. Greenhouse hydrangeas (which don't normally bloom until June) are also popular. A potted peony costs $24.99, while baptisia can range from $9.99 to $12.99.
Another creative idea would be to buy a small tree. The native Virginia dogwood, starting at $150, is one the most romantic plants for the season, Dean says.
"It denotes that the cold weather is done," he says. "Also, planting a tree is a very 'green' thing to do. We've lost a lot of dogwoods, and it sure is nice to repopulate them."
Merrifield Garden Center, 8132 Lee Hwy., Falls Church; 703-560-6222.
If you're still at a loss as to what to get for the holiday, the good thing is that most flower shops will walk you through the process.
Most of the orders at Johnson's Florist & Garden Center are designed for customers' needs, says manager Mark Jenkins. An arrangement can run from $40 to $250.
Right now, the shop is working on a project that will involve six floral centerpieces, water, marbles, and 20-inch vases. Jenkins also sells simple baskets, potted and hanging plants, and plenty of chocolate.
"Mother's Day is one of those holidays where you can't really be too extravagant," he says. "It's a tradition that won't ever die out. You better send flowers, or you're in the doghouse."
Johnson's Florist & Garden Center, 4200 Wisconsin Ave., NW; 202-244-6100.


→ Six Great Mothers' Day Brunches

→ Mothers' Day Gift Guide

→ Mother's Day Spa Specials

→ Flowers for Mothers' Day

→ Mother's Day Activities

→ Mothers' Day Brunch Menus and Specials

→ Mother's Day Hotel Packages

→ Great Day Spas