This page describes the contents of an issue of Washingtonian magazine. Subscribers get exclusive early access through our print and digital editions. Most of our feature stories are later published online and linked below.
Buy a Single Issue
Subscribe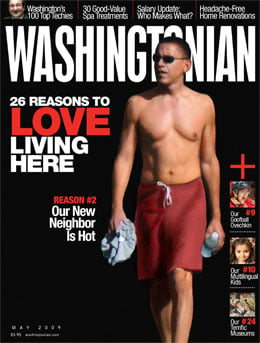 Volume 44, Number 8
Cover Story
Cute zoo babies! The world's best library! And lots more reasons we're lucky to call Washington home.
Photograph of Barack Obama by Chris/Bauer-Griffin.com.
Features
Give Me Your Best Shot
John McCain on the front line, Rahm Emanuel canoodling with Nancy Pelosi, and other striking political moments.
Lynt Johnson is helping build Georgetown Hospital's transplant program into one of the nation's best. Here are stories of lives saved. By Cindy Rich.
Northern Virginia has long been a top technology corridor, but tech leaders in Maryland and DC are making a mark, too. By Garrett M. Graff.
The Washingtonian's annual Green Awards honor local people who work to protect our environment. By Leslie Milk.
Capital Comment A pop quiz for real Virginians . . . Local boutiques for the First Fashionista . . . Ben-Veniste dishes on his foes . . . Lunching with Don Graham.
Where & When Bruce Springsteen at Verizon . . . Giant at Signature . . . Plácido's Latin soul at Constitution Hall . . . Jewish Film Festival.
The Doctor as patient A psychiatrist battling a tough illness talks about the two words that physicians should say a lot more often.
Salary Update: Who Makes What? Think you're making good money? Here are the paycheck numbers for more than 200 Washingtonians.
Getting to 60 Filibusters are a time-honored Senate tradition—or a low-down guerrilla tactic. Here's what we're likely to see soon.
See It and Believe It A bar owned by a 28-year-old burlesque dancer turns into a showcase for the amazing and the just plain weird.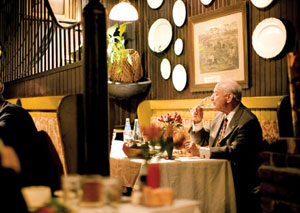 Golden Oldies The author set off in search of the area restaurants in Duncan Hines's legendary dining guide. There were some pleasant surprises.