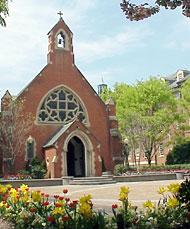 As anyone who has planned a wedding can tell you, you can't plan much until you choose a venue. The mantra of real-estate agents certainly applies to wedding planning: It's all about location, location, location. Randy and I are not Washington natives, but we've both lived here several years and consider it our home. We wanted to have our wedding close to home, both for convenience and because it felt right to get married where we met and fell in love.
We began our search for a wedding venue shortly after our engagement last summer. Aided by the recommendations of local bridal magazines and Web sites, Randy and I began visiting reception venue after reception venue in search of our perfect location.
We quickly found, however, that without a sky-high budget, there's no such thing as perfection. We toured ornate ballrooms that would've made for a beautiful evening (and a lot of debt), venues with fabulous views but not enough space for our guests, a charming Colonial estate that unfortunately served Colonial-era food (rabbit? really?), and lovely gardens that would've left us out of luck—or in need of a tent—if it rained.
Initially, I was hesitant to consider hotel ballrooms because they seemed so blank and impersonal, but the longer I searched, the more appealing the hotel option became. We finally settled on the Westin Alexandria, which had the appeal of being close to Old Town, with all of its charm and attractions, and also a short drive from our neighborhood in Arlington. The hotel's package was more in line with our budget than many of the other venues we'd looked at, and what it lacked in ambience it made up for in convenience. Everything from the chairs to the Champagne toast was included, it had enough space to accommodate up to 200 guests, and a suite for our wedding night was thrown in to sweeten the deal.
I found the event coordinators at the Westin very easy to work with, particularly because the economy had just taken a nose-dive. The hotel was flexible with its food and beverage minimums and was willing to allow us to cut extras such as a cheese display in order to adjust the per-head cost to fit our budget. We also wanted to offer our friends and families the convenience of taking an elevator up to their rooms for the night instead of driving somewhere else following the reception.
The ceremony site was just as important to us as the reception venue, although much easier to find. I had to look no further than out my office window to find the perfect spot. I work at Georgetown University, and the campus chapel—a gorgeous old structure in a scenic courtyard—is available to university staff. Once we found an available date for both the chapel and our reception venue, we were in business.
With our ceremony location a stone's throw from my office and our reception venue a stone's throw from our home, I finally felt comfortable with the fact that our wedding would feel like "us."
When I look back on our search for a wedding location, all of the stress I felt doesn't seem as important as the fun we had. I remember Randy making me laugh as we toured one location that touted a great view and little else. He pretended to be the event planner, urging me, "Look out the window, guys! Just look at that view. Don't look at our dance floor—the view, the view!" In the end, though, it's never really about the view. The search for a great location is about being in it together, talking about what each of you has in mind for your big day, and making the first of what will be many, many compromises in your life together.
Read more about Erin's engagement here.