This page describes the contents of an issue of Washingtonian magazine. Subscribers get exclusive early access through our print and digital editions. Most of our feature stories are later published online and linked below.
Buy a Single Issue
Subscribe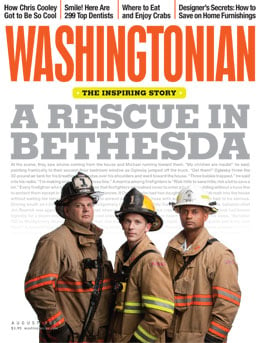 Volume 44, Number 11
Cover Story
The fire broke out without warning, deadly smoke filled the house, and three sleeping kids were trapped upstairs. Here's the extraordinary story of their rescue and remarkable recovery.
Cover by Design Army; photograph of Lieutenant Curtis Warfield Jr., master firefighter John Klavon, and Captain Kimonti Oglesby by Cade Martin.
Features
Robert Allbritton learned about money at his father's knee, and now he's the boss of eight TV stations and a hot new DC newspaper. By Harry Jaffe.
A throwback to the Redskins' glory days, he married a cheerleader and is an Internet sensation who posts his private life—even his private parts—online. By Drew Lindsay.
Dentists don't really mind if you talk while you're in the chair—except if you talk about money. Here's an insider's guide to dental care. By Brooke Lea Foster. Plus—the area's top dentists and specialists. By Sherri Dalphonse.
Home-Design Secrets
How interior designers achieve expensive looks for lower prices, the scoop on designer consultations, designers' favorite paint colors, where they shop for bargains on home furnishings, how to get free design help, and more. By Denise Kersten Wills.
Dining Out Neighborhood standby Sushi Taro reopens. Is it worth paying $27 for a few slices of fatty tuna? Plus—Ray's the Steaks gets bigger digs in Arlington, and the Jockey Club returns.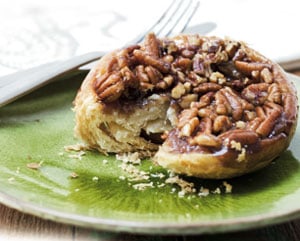 Best Bites First look at Blue Ridge in DC's Glover Park . . . The sticky bun is back . . . Restaurant-quality coffee at home . . . Good dining in St. Michaels.
Luxury Homes Alonzo Mourning sells for $1.5 million; TV reporters Kimberly Dozier and Andrea McCarren make deals.
Move Right In You no longer have to buy condos before they're built. Here are six buildings that are move-in ready.
Pets More women are going to veterinary schools, changing the face of animal medicine.
A Cut Above Marv the Barb has styled Jay-Z and Brad Pitt. But everyone in his chair is a star.
On the Porch Sunday mornings we sit with coffee and the paper. In the evening friends come by. Who knew a front porch could mean so much?