This page describes the contents of an issue of Washingtonian magazine. Subscribers get exclusive early access through our print and digital editions. Most of our feature stories are later published online and linked below.
Buy a Single Issue
Subscribe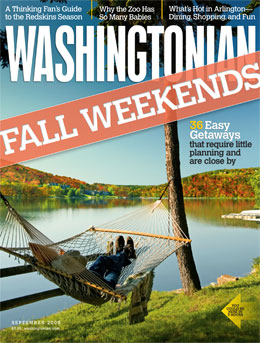 Volume 44, Number 12
Cover Story
Here are 36 effortless escapes—from fun day trips to one-night stays to adventures just an hour away.
Cover photograph of Lake Pointe Inn (McHenry, Maryland) by Jumping Rocks Photography.
Features
Scientists at the National Zoo are using high-tech ways to breed lots of very cute babies and save some animals from extinction. By Emily Leaman.
Want to understand what really goes on during a game? Why Jason Campbell sometimes looks confused? Why our linebackers don't often blitz? Why Clinton Portis sometimes pouts?
Jack was born with so many problems that no one expected him to live—except his mom and dad. Eight years, one angel visit, and many surgeries later, he's an engaging boy with a sweet smile. By Cindy Rich.
Capital Comment Dan Brown's new book and Washington's Masonic secrets . . . The $5-million law partner . . . Redskins predictions . . . Good reads by local writers . . . On the air: Tony the K goes up against Mike Wise.
Where & When Dinosaurs at Verizon . . . Barber of Seville at KenCen and Nationals Park . . . Sam Gilliam at George Mason . . . Equestrian spectacle at Pentagon City . . . Todd Rundgren at Strathmore . . . Billy Crystal at the National . . . Book festival on the Mall.
She's Got Game Two coaches explain how sports give girls confidence—and get them into college.
Green Reads Good books on the environment—from accessible science writing to page-turning narratives.
Making It Home Before they get to the bigs, minor-league players live with local families—and become one of the gang.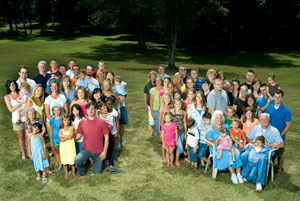 One Big Happy Family Bob and Barbara Patton have 10 children and 52 grandchildren—and counting. "Life is an adventure," says patriarch Bob Patton.
Another Washington Go back 30 years and downtown DC was a very different place—with some very colorful characters.
Best of Arlington It's got walkable neighborhoods, great shopping, and burgers that meet presidential standards.
Looking Good Makeup artists who can make you look and feel fabulous. Plus—what Washington women wear.
Dining Out Cava, a rollicking mezze restaurant, conjures the Aegean with mini-gyros and "disco fries." Plus—an Indian spot shines in Rockville, Andy Shallal brings fried chicken and mint juleps to DC's U Street, and kebab nirvana in Oakton.
Judgment of Paris This time it happened in Paris, Virginia, and the results of this winetasting might surprise you.
Best Bites First look at the Cajun Experience in Leesburg . . . Opening night at J&G Steakhouse . . . Where to find Virginia wines . . . Eating at all 100 Best.
Luxury Homes Five homes sell for $3 million or more. Plus a hot tub on the Hill for Max Baucus.
Pets Dogs and cats get stressed, too. Some end up seeing therapists.
Rocket Man Eric Anderson is going where few travel agents have gone before: outer space.
"I Hope You'll Forgive Me" When I was a teenager, my politician dad was involved in a scandal. At the time, forgiveness was the last thing on my mind.