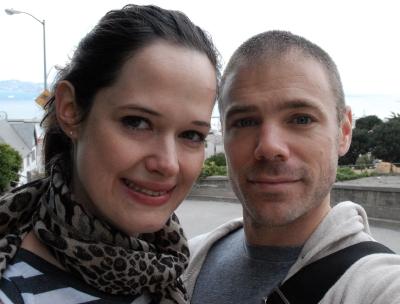 Today we introduce you to Sophie, a Washingtonian assistant editor who's getting married—five weeks from now. Read on in the following weeks for her take on planning a small wedding with guests from all over the world, dealing with legal issues such as getting a green card (Sophie's from England), and finding, in her words, "a minister who isn't a former televangelist."
As Austin Powers, my fellow Brit, might say, allow myself to introduce myself. I'm Sophie, I recently started my new job as an assistant editor at The Washingtonian, and I got engaged at the end of July to John, a really wonderful man whom I met in graduate school. Two years ago, I moved to New York City from London to get my master's degree in journalism at New York University. Having been held up by visa issues, I arrived two days later than everyone else, jet-lagged, homesick, and completely unused to the 90-degree heat (i.e., miserably sweaty). So I grabbed a seat at the back of the room for my first class in media ethics and tried my best to look invisible while we waited for the class to start. After about two minutes of furtive glances, the guy sitting opposite me (John) stood up and gruffly introduced himself, an act that I later found out took extraordinary effort because he's rather shy—which also accounted for his gruffness. I was pathetically grateful. My first American friend!
I'd love this to be one of those Jane Eyre-esque moments where I could say, "Reader, I married him." But it took a bit longer than that. About a month after we met, I decided that I loved him, and then nine months after that we finally started dating. We moved in together on Christmas Eve 2008, and we've been blissfully cohabiting ever since.
And how we got engaged? Well, John and I have a long-standing sushi date every Wednesday. The week of July 20, he asked me if we could meet on Tuesday instead. Then he asked to meet at noon instead of 12:30. Somewhat annoyed and blustering about "my busy schedule," I reluctantly agreed. When I went to meet him for lunch, he had a Zipcar waiting, which I thought was rather excessive considering the sushi place is 50 yards away. And that was when John told me we weren't really going for lunch—we were going to San Francisco for vacation! The flights were booked, a friend was waiting to drive us to the airport, my boss had already agreed to the time off, so all I really needed to do was throw some stuff in a bag and we were good to go.
John carried his bag around with him for the entire vacation, which for a man who refuses to carry change in his pocket was a bit weird. He also was disproportionately upset when we missed our reservation at the restaurant Michael Mina. On the last day, in our hotel room at the St. Francis (which was bigger than our apartment in DC and had not one but two chandeliers), I was getting ready to go to dinner when he told me I looked beautiful but there was something missing from my outfit. Then he handed me a ring and said, "Please, will you be my wife?"
And because he'd said "please" and was so polite, I said yes. Then I gawked at the ring for about two hours. We went out to dinner, beatifically smiling at everyone we saw. It was really lovely. John told me he'd been waiting for the perfect time to propose, but it never came. The one time he had high hopes was when we climbed a staggeringly steep hill and found a tiny park at the top with views all over the city. But when we entered the park and turned the corner toward the sole bench, there was a really old Chinese man doing calisthenics, which John felt might have ruined the mood a bit.
So we came back from San Francisco with a wedding to plan. Our wedding is October 3, 2009. We've had about five weeks to plan it so far, and there's another five weeks until the day itself. It might seem ambitious, but it helps when you have a teeny-tiny budget, a minuscule number of guests, and a fiancé who already has a tux. We'll see if we actually manage to pull it off.

Sophie will be blogging for Washingtonian.com every week. Check back for more adventures in her wedding planning.
More>> Bridal Party Blog | Wedding Guide | Wedding Vendor Search