This page describes the contents of an issue of Washingtonian magazine. Subscribers get exclusive early access through our print and digital editions. Most of our feature stories are later published online and linked below.
Buy a Single Issue
Subscribe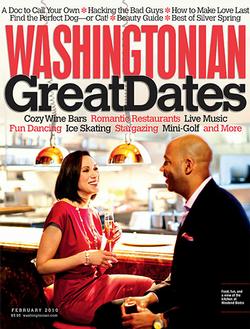 Volume 45, Number 2
Cover Story
Great Dates
Wine bars, live music, dance clubs, ice-skating rinks, and lots more ideas to spice up your life.
Photograph of Jill Hudson Neal and Terry Neal by Scott Suchman
Features
The United States is now fighting a new kind of war, deceiving and confusing the enemy with cyberweapons. The battle began with two admirals who secretly drew up the battle plans and fired the first shots. What's next? By Shane W. Harris
How one woman found herself on a film set with Reese Witherspoon and Jack Nicholson—and what really goes on during a Washington movie shoot. By Carolyn Presutti
Mutants on the Red Line, bombed-out houses in Chevy Chase, giant scorpions in Arlington. Welcome to Fallout 3, the blockbuster video game that Todd Howard and Emil Pagliarulo created in Rockville. By Michael Gaynor
American women have medaled in figure skating at every Winter Olympics since 1976. Will Ashley Wagner be on the podium this year? By Drew Lindsay
Republican leader Michael Steele stumbles, blunders, and falls—then springs back to life. By Paul West
Capital Comment
Obama's winners and losers . . . Everything you need to know—and more—about the new Redskins coach . . . Gilbert Arenas finally gets help . . . When law partners split.
Profile Marcus Johnson: Life of Song.
Real Life Making love last.Benefits Good times for good causes in February.
Where & When
Grease at the National . . . Georgia O'Keeffe at the Phillips . . . Jimmy Fallon at the Warner . . . Impressionists at the Corcoran . . . Disney on Ice at Verizon Center.
FOOD
dining out Eola is making a case for the charms of the small, plucky independent. Plus—two hotly anticipated restaurants bow in DC, and a cozy cafe shines in Leesburg.best bites First look at Kellari Taverna . . . Good Indian . . . Best pastry chefs.saffon king Behroush Sharifi is behind some of the most unusual ingredients at local restaurants.