This page describes the contents of an issue of Washingtonian magazine. Subscribers get exclusive early access through our print and digital editions. Most of our feature stories are later published online and linked below.
Buy a Single Issue
Subscribe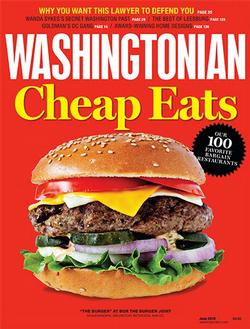 Volume 45, Number 9
Cover Story
Think a terrific meal has to come with a big price tag? Our guide to the area's best bargain restaurants features 100 places that offer great food at low prices.
Photograph of BGR burger by Scott Suchman; food styling by Lisa Cherkasky

Features
Tray Chaney's character, Poot, emerged from five bloody seasons on HBO's drama still alive. Now the actor faces a different challenge. By Christopher Seneca

True Colors

Sunrises, a big splash, a tiny raindrop, and other colorful pictures from the White House News Photographers.
Each morning at Arlington Cemetery, the final resting place for
300,000 veterans, a team assembles to usher through some 30 burials with
one goal: Make each grieving family feel as if its funeral is the only
one that day. By Caitlin Gibson
Wishing on a Star

Erin and her twin sister were born attached, and the surgery to separate them left Erin paralyzed. When her parents found out that a service dog might help her, they were led to an unlikely place. By Cindy Rich
Scientists at the University of Maryland are unlocking the mysteries of atoms—and may start a new scientific revolution. By Michael Gaynor
Capital Comment
Prom pics of the stars . . . Inside a hunt-country estate—and it's all for sale . . . Goldman Sachs's power people in DC . . . Hogan goes global . . . Post lures top talent to fix political coverage.
Where & When
Laurence Fishburne is Thurgood at the KenCen . . . Brooks & Dunn say farewell at Jiffy Lube Live . . . Patti LaBelle and Gladys Knight at Merriweather Post . . . Good times at the Folklife Festival, Caribbean Carnival, and more.
what i've learned Funny girl Wanda Sykes. annals of law You Better Get Brendan. Activities Fun Around the Beltway. book review The author of two bestsellers has a new novel out this month.
benefits Good times for good causes in June.
Life
travel Two good nonstop-flight destinations for summer—London and San Francisco. style Get ready for a preppy resurgence in fashion.
Reader deals Treat Dad, a grad, or yourself to some pampering with these exclusive discounts.WORK & FAMILY The case of the purloined CDs, the very angry groom, and the question bed-and-breakfast owners love most: How do you like being retired?
Health Three generations of the Ricotta family have been doctors. The changes they've seen in medicine are the story of American health care.
Home
design for a living An updated Art Deco classic, a modern Chesapeake retreat, and other winners of our 2010 residential design awards.
Best of leesburg A historic town with good restaurants, charming antiques shops, and outlet bargains less than an hour's drive from DC.
Luxury Homes NIH's Zeke Emanuel and lobbyists Tony and Heather Podesta strike deals.
Pets Puppies are cute and cuddly, but looks can be deceiving. laughing with dad From movie sets to the Senate floor, he's always been on my mind.