This page describes the contents of an issue of Washingtonian magazine. Subscribers get exclusive early access through our print and digital editions. Most of our feature stories are later published online and linked below.
Buy a Single Issue
Subscribe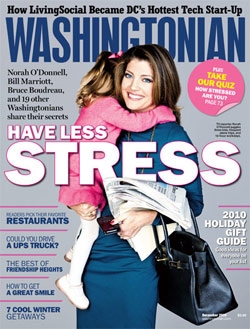 Volume 46, Number 3
Cover Story
Have Less Stress

How do Washingtonians handle pressure? We asked lots of people, from a nun to a Redskin, what works for them. PLUS—the best ways to beat stress: massage, meditation, hypnosis, quick exercises, errand runners, foods that might help, and more.
Photograph by Chris Leaman

Features
LivingSocial CEO Tim O'Shaughnessy has created the most interesting local start-up since AOL, and he wants to revolutionize how consumers shop. By Garrett M. Graff
Prosecutors in DC have the toughest caseload in the country. But working here is also the best training ground for young lawyers—if they can handle the pressure. By Marisa M. Kashino
John Safer made it big as a businessman, but his passion drove him to become a sculptor of note. By Wayne F. Nelson
Students at Duke Ellington are pulling out all the stops for their production of Dreamgirls. A lot is at stake—including the school's future. By Kris Coronado
Holiday Gift Guide

Don't know what to get your boss, your best friend, or your brother this holiday season? Here are 74 terrific ideas.
Striking scenes from the Mall to Arlington to the Chesapeake Bay—all entries in FotoWeek DC's photography competition.
Life
travel Two hot destinations for the new year: Istanbul and Las Vegas. health Faster braces, easier whitening, and other advances are giving patients brighter, straighter, healthier teeth.spirit of giving How to lend a hand to those in need this holiday season. Reader deals Cool winter getaways.
Home
best of friendship heights When Metro arrived there, the community on the border of DC and Montgomery County was a quiet suburb. Today it's an urban center with high-rise condos, lots of restaurants and sidewalk cafes, and good shopping.Luxury Homes Hockey star Niklas Backstrom buys for $2 million. Plus—banker Robert Pincus and Channel 7's Gordon Peterson buy condos.
Pets Mutt macaroons, mincemeat muffins, and other holiday treats for pets.
First Person I'm independent, and I walk with purpose rather than grace. Could I learn to give in to the tango?