This page describes the contents of an issue of Washingtonian magazine. Subscribers get exclusive early access through our print and digital editions. Most of our feature stories are later published online and linked below.
Buy a Single Issue
Subscribe
The challenge of venture capital—the seed money for start-up companies looking to make it big—is that nearly every entrepreneur wants to do something never attempted before. "Everyone who comes in claims to be extraordinary—the job is determining who actually is," says venture capitalist Don Rainey, who has to make quick judgments about proposals that cross his desk and the people who parade through his office at Grotech Ventures in Vienna.
At the time that Rainey's firm invests, he's rarely paying attention to the product—he's judging the people. Rainey has developed a list of traits he seeks in entrepreneurs. They should be thoughtful, precise, hard-working, and willing to hire others who will challenge themselves. But at the top of Rainey's list is a motivation that defies easy explanation.
"They should be performing for someone who isn't there," he says. "They need to aspire to a goal not reasonably achieved. It's magical."
In other words, the best entrepreneurs aren't just driven; they also have a hunger for success—an overwhelming desire to be the best. They need to feel they have something to prove—maybe to their families, maybe to the world. They need to be hungry. They need to be like Tim O'Shaughnessy.
In March 2008, after meeting with O'Shaughnessy—then-26-year-old CEO of the start-up Hungry Machine—Rainey told his four partners, "You wait and see—this guy will be the best young CEO we've ever seen."
O'Shaughnessy, for his part, walked out of the meeting and told his three cofounders, "This guy's going to be the one who funds us."
What O'Shaughnessy pitched to Rainey 30 months ago was neither the company the founders began nor the company they run today. Twice the group has developed a successful business model, and twice the founders have thrown it away to gamble on a new enterprise. "We reach plateaus and then figure out how to jump to the next one," says cofounder Eddie Frederick.
Yet that initial meeting, in Grotech's Tysons Corner office a few floors from the networking hub the Tower Club, began a partnership that has brought together some of Washington's best-known names to create LivingSocial, the area's hottest consumer-technology company since America Online—a start-up that might breathe new life into the regional tech community and revolutionize local shopping.
Business is in Tim O'Shaughnessy's blood. His father runs a freight company in Apple Valley, Minnesota, and Tim's older siblings have succeeded in their own ventures—one is an opera singer, another a financial trader, the third a physician. At age eight, Tim recruited as his first employee his friend Nathan Johnson, who last year was best man at O'Shaughnessy's wedding to Laura Graham, daughter of Washington Post Company CEO Don Graham. The boys used O'Shaughnessy's $8-a-week allowance to buy candy in bulk. With the help of a red wagon to haul their wares, they traveled from playground to playground selling candy. In a week, they could triple or quadruple their money. O'Shaughnessy's first competitor was one of his older brothers, who began showing up at the playground hawking king-size candy bars.
Tim O'Shaughnessy's competitive spirit has remained. "That was a way of being," he says. He spent his high-school years at St. Thomas Academy, Minnesota's only Catholic military academy, and came to Washington as a freshman at Georgetown University. He chose a double major in marketing and what the university calls OPIM—operations and information management. "That combination is the exact thing I'm doing," he says.
"I knew from a very young age that I wanted to create something," O'Shaughnessy says. "I knew that most millionaires worked for themselves and most philanthropy came from those millionaires. If you really want to change the world for the better, that's the logical path."
To help pay for college, he started a handyman service and worked as a live-in chef for a family in Chevy Chase. He quickly began to feel the pressures of making payroll for his burgeoning business: "I always approached it as 'I need to pay $20,000 in the next five months,' so how do you solve for that?"
In 2004, during his senior year, Tim O'Shaughnessy was involved in a class consulting project for AOL. A day after the group's presentation to corporate executives, he received a call from an AOL recruiter. "David Gang wants to hire you," the recruiter said. O'Shaughnessy talked to the executive vice president for AOL products and politely explained that he had postgraduation plans to bartend in Maine for the summer and then begin a job with Navigant Consulting in DC.
Gang wouldn't take no for an answer. "You'll start in two weeks," he told the senior, who two weeks later started work at AOL's Tysons headquarters.
After two years at AOL, O'Shaughnessy ended what he calls his "Virginia tour of duty" and moved to AOL cofounder Steve Case's start-up, Revolution Health. In his first year there, O'Shaughnessy watched the organization grow from 50 employees to more than 280—a growth path similar to what LivingSocial has experienced this year.
As the sometimes chaotic Revolution Health grew, O'Shaughnessy was repeatedly promoted and learned lessons about how an expanding company thrives.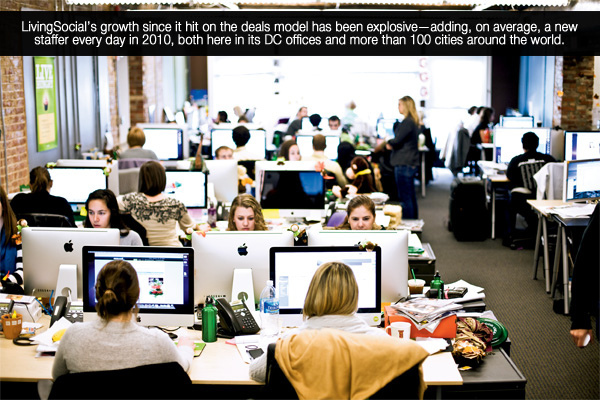 Hungry Machine got its start in 2007 at the Brickskeller, the beer bar near Dupont Circle, where O'Shaughnessy and several colleagues from Revolution Health—Aaron Batalion, Eddie Frederick, and Val Aleksenko—were wondering what came next. The clique of tech guys had become something of a "tiger team" inside Revolution Health, jumping from problem to problem in the company's early days.
That conversation resulted in the group's creating a consulting firm. The partners split their time between large-scale tech consulting projects and on the side building their own Facebook products, such as Visual Bookshelf, which allows Facebook users to share reading lists and book recommendations. Hungry Machine's consulting practice would have been a very successful lifestyle business—with a million dollars a year in revenue for a four-person firm, the partners were on track for mid-six-figure salaries—but they weren't satisfied.
" 'Entrepreneur' is more a state of mind than it is an act," Batalion says. "At the end of the day, it's all attitude and work ethic."
They realized that their side business of building Facebook products had the potential to be even more profitable than their main business, consulting for ESPN and JibJab. So they threw away business model number one.
The team's decision to give up a consulting revenue stream was risky—or as O'Shaughnessy puts it, "whatever the intersection of arrogance and stupidity is." But the Facebook platform was interesting: It was the sweet spot for a growing business at the intersection of "O2O" (online-to-offline) commerce—that is, using online tools to drive users to make real-life buying decisions.
"We decided, in essence, to cut our wins and try something else," Batalion says. "It was a hard decision, but consulting doesn't have a growth curve that's interesting."
That idea—never to be satisfied, always to reach for the bigger goal—permeates the company today. To its founders, Hungry Machine is an attitude. "Hungry is hungry. Machine—that goes on forever," says Batalion, who before throwing his hat in with Hungry Machine had developed something of a bull-in-a-china-shop reputation. When he worked at Accenture, helping Blockbuster move to online video, he earned the nickname Tank for steamrolling over his colleagues. Several of his bosses were removed after he outshone them in tech know-how. At Hungry Machine, he was all for charging ahead. "We've never been happy with any success we've ever had," he says.
The Hungry Machine team struggled early on. Visual Bookshelf earned the company some money through Amazon referrals. But progress was slow.
In the spring of 2008, Hungry Machine's five employees knew they had found an interesting niche in the Facebook app platform but needed room to grow. Steve Case, who had come to know the Hungry Machine guys while they worked for him at Revolution Health, was willing to kick in some seed money, but the founders wanted more.
"We needed a runway," O'Shaughnessy says. "We needed time to figure out the space and the platform. We knew $600,000 wouldn't give us 18 months and the flexibility to hire 10 to 12 people."
That's when the company had a choice to make: Don, Steve, Ted, Phil, or Mike?
In the consumer-tech field in Washington, there were basically five people who would write checks large enough to get a company off the ground: Don Rainey at Grotech; Phil Bronner at Novak Biddle, a Bethesda-based venture firm; Mike Avon at Virginia senator Mark Warner's old venture firm, Columbia Capital; and Washington's own tech titans, Steve Case and Ted Leonsis, longtime AOL executive and owner of the Washington Capitals hockey team. Mike Avon has since left Columbia Capital, so companies now have just four local venture-funding choices. Location matters in venture capital: 80 percent of VC deals happen within 100 miles of a firm's headquarters.

O'Shaughnessy, Batalion, Frederick, and Aleksenko thought they had a winning formula. "We'd build lots and lots of products, apps, and partnerships," O'Shaughnessy says. "We'd bridge that online-to-offline way, drive a commerce transaction." The company was beginning to make money, and the founders, who had been working without salary since the beginning, felt comfortable paying themselves $4,000 a month. "The wives and girlfriends were really happy about that," O'Shaughnessy recalls.
While the rest of the team stayed focused on the products, O'Shaughnessy began to research venture-capital pitches, reading successful ones online, finding out everything he could about how to ask for money. "I had this hypothesis that team plus traction equals money. I made that the core of our pitch," he says.
He had several conversations around town before meeting Rainey, who, as one of five Grotech general partners, deals in consumer Internet technologies and admits to a penchant for "shiny objects"—exciting new technologies that might change the world.
Rainey looked at Hungry Machine and got serious: "At that point, they understood Facebook better than just about anyone in the world." Rainey says he's met only two other entrepreneurs in his career as extraordinary as O'Shaughnessy—and one of those had made $70 million by his 30th birthday. Rainey wanted in on whatever Hungry Machine was about to do.
He visited the firm in its apartment/office above a Georgetown antiques store and then had O'Shaughnessy out to Vienna for the big sell: the partnership meeting where the young CEO pitched the company to Grotech's leaders.
"It's five to ten guys asking questions and telling you all the ways you'll fail," Rainey explains. "They know they have all the leverage, and they assault every component of your team, your technology, your idea."
O'Shaughnessy recalls walking out of the meeting and thinking that perhaps his earlier optimism about Rainey had been misplaced, saying to himself, Man, maybe we're way off.
Rainey thought the Hungry Machine guys were right. "Tim had complete command of his understanding of his opportunity," he recalls. "It was a visceral reaction—this guy knows his stuff. You'd be surprised how many people come in with a fuzzy view of what they're trying to create."
The next day, Rainey called to say Grotech wanted to move forward. Negotiations began in earnest—how much investment, the valuation of the company, how the money would be repaid in an eventual sale or initial public offering (what's known in venture capital as the "liquidation preference"), board seats, possible dividends. O'Shaughnessy enlisted his attorney brother-in-law's firm to help with negotiations.
In the end, Grotech put in $4 million, and Steve Case, through his investment company Revolution, added another million. With $5 million in the bank, Hungry Machine, which had taken on the public name of LivingSocial to reflect its products better, had its runway.
In March 2009, LivingSocial had its first bona fide hit. The Pick Your Five app—which encouraged Facebook users to choose their favorite books, drinks, musicians, movies, and so on—launched in the late afternoon. By 6 pm, 1,000 Facebook users per minute were installing the app. By 10, the growth rate had doubled. Within 30 days, Pick Your Five had 80 million users, a crushing weight for the team's tech infrastructure. The LivingSocial team worked in shifts around the clock to keep the servers running, as the Web site was overwhelmed by traffic.
"I'm sure there are stories I don't know about how fragile and close they came to disaster," Rainey says. The situation was precarious enough that Batalion had LivingSocial's system text him its status every five minutes so he could monitor the servers no matter where he was.
By summer, Pick Your Five was the number-one app on Facebook, and the company, by then with seven employees, was running one of the world's top dozen Web sites in terms of traffic. The next move was to link advertisers with users who had expressed a preference for their product.
The guys had mastered the app business, but now what? The company was the most successful app builder on the planet, but revenues were still pennies per user. After Pick Your Five and Visual Bookshelf, it was a constant struggle to build the next hit, and the advertising deals where real money arrived were hard to land, even though the partners managed to sign companies such as Coca-Cola and Disney.
"That was jarring," Frederick says. "We never want to reach that point again—we never want to achieve a goal without knowing what the next goal is. If you define what you want, it reorganizes everything—your priorities, your time."
Meanwhile, the partners were experimenting with another business stream. The O2O commerce space was beginning to heat up, and LivingSocial acquired BuyYourFriendADrink.com, which tried to drive online fans to visit specific bars. "That was a light bulb—that you could drive 20, 30, 50 people to show up at a place with online media," Rainey says.
The idea bore fruit, even if that specific model didn't—LivingSocial never used BuyYourFriendADrink.com to do what its name suggested. Rather, it explored a more traditional business-to-consumer model that the founders thought—and convinced Rainey—had real potential. Out went business model number two.
While it still maintains millions of Facebook users on Visual Bookshelf and Pick Your Five, LivingSocial cast aside its business model to focus on a bigger gamble with a bigger potential payoff. It offered its first group coupon on July 27, 2009, for the restaurant Zengo in DC's Chinatown.
The idea behind the group coupon was simple: Each day, a local merchant offered a significant discount on a product or service via a coupon e-mailed to thousands of LivingSocial subscribers—that is, people who had signed up by providing e-mail addresses. Deals involved a social component: Any subscriber who got three friends to buy a deal got the deal free.
Everyone who signed up for it was charged at the end of the day and was e-mailed a coupon the following day. LivingSocial split the revenue with the merchant. Users who bought the coupon could print it out and use it at their leisure.
The discount-market leader, Chicago-based Groupon, had about a nine-month head start on LivingSocial in the group-buying business, but both companies began expanding nationally around the same time. This year, Groupon—run by a 29-year-old phenom named Andrew Mason—became the fastest company ever to reach $500 million in annual sales.
LivingSocial's growth was similarly explosive. By the fall of 2009, it was clear that the company's third business stream would surpass the first two. Success makes it easier to raise money. As the group-deals market showed promise, O'Shaughnessy began hearing from venture capitalists looking to get in on the company's next round of fundraising.
At its holiday party in December, LivingSocial—still an intimate group with 30-odd employees—continued its annual tradition of voting on a motto for the following year. The year before, they'd selected "Go big or go home." For 2010, as the party at M&S Grill on 13th Street wrapped up, the group selected "Strong moves."
The company has made strong moves in 2010. When it convenes this year's holiday party, LivingSocial won't be in the same location, it won't fit into one room, and the motto voting probably will have to take place by text message, as on American Idol.
In March, O'Shaughnessy gave up personally interviewing everyone the company hired. Since then, LivingSocial has been growing at an average rate of one new hire a day. Walking through the offices in DC's Chinatown, O'Shaughnessy threads his way through a maze-like network of desks and staff. "We didn't have desks in there until a few days ago," he says, gesturing toward a space that once held the company lounge and video-game room.
In April, LivingSocial was in 18 cities nationwide. Its deal e-mails now reach 10 million subscribers in more than 100 markets in the United States, Canada, and the United Kingdom. In October, the company—by then with satellite offices in New York City and London—expanded into Ireland. Launching an international expansion, the company is advertising positions in 50 countries ranging from Uruguay to Hong Kong.
Its second round of venture funding—called a Series B round—raised $21 million in March, and just a month later LivingSocial closed a $24-million Series C round, bringing two West Coast firms into the mix along with Steve Case and Grotech.
Says O'Shaughnessy: "I called out to a half dozen firms that I'd developed relationships with and told them we weren't doing a long process. I'd be out in Silicon Valley this week for individual meetings and then the following week for partnership meetings. If they were interested, great. If not, no hard feelings."
O'Shaughnessy made the sales pitches alone; the rest of the team concentrated on the core deals business. All told, he came home with more than $50 million in funding. "I'm good at getting people to write large checks," he says.
The company's cash flow is sufficient to let it continue growing without ever doing another round of venture funding. As more firms enter the daily-deal market—in Washington, there are close to a dozen daily deals—the field has grown super-competitive: The same month LivingSocial closed its Series C funding round, Groupon closed a $135-million venture round that valued the company at more than $1 billion. The only company ever to reach that value faster was YouTube, which still hasn't turned a profit. Both Groupon and LivingSocial are profitable. LivingSocial closed its Series C round with a valuation that, sources involved in the deal say, reached well into the hundreds of millions of dollars.
Nationally, the group-buying market is the hottest tech area of the moment. Washington's other investment gorilla, Ted Leonsis, has weighed in with LivingSocial's chief competitor, backing Groupon and sitting on its board of directors along with Peter Barris, managing partner of the Chevy Chase office of venture firm New Enterprise Associates, also an early investor in Groupon. Barris's NEA partner, Harry Weller, also sits on the board.
Groupon claims to have sold 15 million coupons, totaling more than $600 million in savings for its subscribers across some 250 markets worldwide—roughly double LivingSocial's size today.
For the merchants who take part, the group-buying practices can be revolutionary. Last fall, in a matter of hours, LivingSocial sold 2,500 tickets for a luxury Washington–to–New York bus service—enough to fill more than 50 buses. Its biggest local success was a $40 gift card for $20 to Sweetgreen, the salad-and-frozen-yogurt chain, which sold more than 12,000 of the coupons. On another day, LivingSocial sold nearly 7,000 coupons for half off the $18 admission to the International Spy Museum.
In Washington, LivingSocial's largest market, its e-mail list is roughly half a million people, with New York, Chicago, and other major cities closing in fast.
LivingSocial is nipping at Groupon's heels. By one measure, LivingSocial saw its Web traffic surpass Groupon's in recent months. "It's nice to see lines cross," says O'Shaughnessy, characteristically modest for someone who is likely, at least on paper, one of the wealthiest Washingtonians under age 30. The founders still control a large minority stake in the company, said to be roughly a third.
While each round of outside funding has diminished the share held by O'Shaughnessy and the other cofounders, he's now worth many millions. Still, he's remarkably detached when talking about the company.
"It's a business," he says. "We're optimizing for shareholder value. LivingSocial is now my biggest asset. If there's someone else who can increase the value of that asset faster or better than I can, I'll be the first one shouting from the rooftops for that person to replace me."
Grotech's investment in LivingSocial might turn out to be the biggest deal in the venture-capital company's history. And it's on a roll. Four of its other companies are in the nation's 200 fastest-growing private companies, according to Inc. magazine, including Annapolis-based Zenoss and Reston's Clarabridge. The growth of both LivingSocial and Groupon is too recent for them to be included on the list, but they certainly will be on the next one—if not at the top. "The only real way to show our revenue on a chart is with a 90-degree line," Frederick says.
Rainey, whose Grotech is LivingSocial's largest shareholder, says simply, "It will be a very successful investment."
In the Washington area, LivingSocial's success is more unusual than it perhaps should be. While Washington is still the country's third-best tech city—after New York and San Francisco—it's no longer secure in that position. Cities such as Austin, Boulder, Seattle, and Chicago are making strong gains in their tech start-up markets.
Once a thriving tech region driven by wealth-creating giants such as AOL, Washington has quieted down in the past decade. The Dulles corridor, AOL's home, used to be the center of the tech world, but new start-ups now cluster around Metro stations in DC, Arlington, and Bethesda. With many of AOL's diminished operations shifted to New York and San Francisco, fewer alumni are starting their own companies locally—and the days are long gone when people left AOL with millions of dollars in stock with which to leverage a new enterprise.
Local entrepreneurs increasingly look like the LivingSocial crowd: Instead of accomplished mid-thirties men and women who have their first small fortunes and are willing to forgo salaries for a couple of years as their businesses get going, today's local entrepreneurs are more likely to be in their early to mid-twenties.
These young entrepreneurs are finding it harder to get started as Washington faces a drought of "angels," the high-net-worth investors who make six-figure investments to get an idea off the ground before it seeks venture capital. In the 1990s, angels were plentiful. One, the Capital Investors dinner club—a group that met at fancy restaurants to hear start-up proposals—included Michael Saylor, Ed Mathias, Mark Warner, Jim Kimsey, Raul Fernandez, Russ Ramsey, and other notables. Now, entrepreneurs say, there's basically one major local angel: John May, managing partner of the New Vantage Group, who has invested in some 50 local start-ups. One new company, AwayFind, recently left suburban Maryland for San Francisco after striking out locally and finding an angel there.
Washington's tech workforce—fattened by a decade of record government-technology investment and a thriving network of federal contractors—is more risk-averse than it was at the height of the dot-com boom. "There's so much job security in other areas," says Frank Gruber, whose Tech Cocktail gatherings are musts for start-ups looking to get off the ground. "There's always going to be a shadow of the government here."
As Aaron Batalion says, "DC doesn't have hackers. It has career tech people."
LaunchBox Digital—a tech incubator that provided budding entrepreneurs with funding, training, and resources—stepped into the angel gap in 2008 and 2009, but its efforts fizzled as two of its three founders took jobs in the Obama administration—Julius Genachowski became head of the Federal Communications Commission, and Sean Greene took a post at the Small Business Administration. The remaining cofounder, John McKinley—frustrated by a lack of support from the DC government—found a more welcoming environment in Durham's Research Triangle Park, where local leaders provided office space and funding. This fall, LaunchBox's new class of entrepreneurs is in North Carolina, not Washington.
O'Shaughnessy says LivingSocial has had struggles growing because the region isn't geared toward private-sector start-ups. Searching this summer for a new office in downtown DC, he looked at a building that offered 40,000 square feet per floor, reasonably generous for the 350 people he hoped to base there. The building's owners, accustomed to dealing with the law firms on the other floors, said LivingSocial could put only 140 people in the space.
O'Shaughnessy argued that LivingSocial required a different layout—it didn't need a law firm's large private offices, conference rooms, libraries, and file-storage areas. The owner eventually agreed to let the company base 200 employees on the floor—but only if LivingSocial paid $250,000 to refurbish the stairwell and used it instead of the elevators to minimize bother to other tenants.
"You'd think they'd want a flagship tenant," O'Shaughnessy says. "If you're in New York or San Francisco, that conversation wouldn't have existed."
LivingSocial decided to look elsewhere, eventually splitting the company and taking a floor in a building near its Chinatown headquarters.
Virginia governor Bob McDonnell has singled out the Arlington tech-consulting firm New Media Strategies for its impressive hiring spurt this year—CEO Pete Snyder added 32 employees to his team in 2010—but LivingSocial hasn't gotten much love from DC and feels isolated in the local tech community.
Washington's tech scene is mostly driven by federal work, and a small but thriving sector—including companies such as MyImpact.org, Goodness500, and Giv.to—provides tech services to nonprofits and the development community. There are few consumer-oriented sites. McLean's Clearspring, which lets users share Web sites on social-networking sites, and movie start-up SnagFilms—also backed by Leonsis and Case—are exceptions.
O'Shaughnessy recalls sitting through a DC Tech Council meeting with ten other CEOs; his was the only consumer company. He recalls, "Ninety-eight percent of the conversation was government procurement. That's an entirely different industry. That's not a super-stimulating environment."
"It's isolating," says Frederick. "It's hard to find a kindred spirit here." And yet to the LivingSocial team, the consumer market is where the most exciting technology is. Staff members like the fact that people on the street and at bars or cocktail parties know what they sell and are excited by it. As Batalion puts it, "My family has to be able to use it; otherwise it's not interesting to me."
As the company has grown, it has begun to compete for tech talent on a national scale—in September it hired three top executives who had worked at Expedia, Netflix, and Rosetta Stone. "I've gotten e-mails from CEOs at DC companies I've never heard of asking us to stop hiring their staff away," O'Shaughnessy says. "I didn't even realize we'd hired those people. It's a zero-sum game for employment. If we're growing, we're taking."
LivingSocial's hope is that its success will help spur more consumer-tech companies in the area. "People like to cluster around growth," O'Shaughnessy says. It's also hoping that its success helps spur local government to do more to encourage such growth. Its biggest competitor, Groupon, won a $3.5-million tax abatement from the state of Illinois in exchange for creating 250 more local jobs. There's been no such offer from DC.
LivingSocial isn't likely to stop growing. "We're in the second or third inning of the game right now," O'Shaughnessy says. "It's cool to be a nine-figure-revenue business and feel like you've got a long way to go."
The company's goal is to help local merchants spend their marketing dollars more efficiently and at the same time help local consumers figure out where to spend their money. As Groupon investor Ted Leonsis blogged, "Group couponing is a powerful tool and a positive breakthrough for small businesses. You get customers for free; no up-front media buy; and you get to keep the customer after they come in to your store. You also get to build your brand and you get data about who purchased. And best of all, you get to control what you offer; how many customers you want; and the like."
While demand from merchants is still strong, the once-high profit margins on the coupon business are beginning to erode. Last year's 50/50 revenue split between merchant and coupon company has moved in the merchant's favor as competition has increased. Now more than 80 companies vie for business; Groupon and LivingSocial are by far the top two, but Boston-based BuyWithMe is coming on strong, and a Spanish clone has raised millions in venture funding overseas. The competition means that high-profile merchants can negotiate rates, receiving in some cases up to 90 percent of the revenue, with guaranteed sales and quick payouts. Both Groupon and LivingSocial are spending big money on online advertising in an arms race for e-mail subscribers.
Some backlash is developing against the model. While most businesses appreciate their group-purchase experiences, some have begun to complain about the process, revenue split, and overwhelming number of customers a big sellout can provide. The owner of Posies Cafe in Portland, Oregon, wrote in a September blog post that offering a $13 food coupon for $6 on Groupon, which sold nearly 1,000 coupons in one day, was the "single worst decision I have ever made as a business owner thus far"—a decision that forced her to draw on her personal savings to make payroll.
LivingSocial claims to work closely with merchants to ensure successful experiences and that they're prepared for the onslaught of coupon-wielding visitors, but the model is still likely to shift in the coming years.
The long-term plan for LivingSocial is to make its deals ever more local and immediate—improving efficiency for businesses for which excess capacity is wasted. An empty table at a restaurant today can't be sold tomorrow. An empty chair at a hair salon on Tuesday can't be filled on Thursday. Ditto for a hotel room or a train, bus, or plane seat.
Eventually, fast-forwarding a few years and a few generations of technology, LivingSocial hopes people wanting to go out for dinner will have instant access to a constantly updated list of which restaurants are offering what deals for what nights. The question it wants to answer for consumers, Rainey says, is simple: "Is anyone more motivated than someone else for me to come to their restaurant tonight?
"It's a far more revolutionary concept than people give it credit for. It's not about coupons. It's about customer acquisition. It'll be a real-time marketplace. An owner could say, 'It's Tuesday night, it's raining, my restaurant is empty, I'll knock off $15 for anyone who comes out tonight.' Right now we have a system where consumers aren't rewarded for their time, expenditures, or loyalty."
Rainey says he foresees a world in which businesses will have two marketing budgets—a broad one for brand building and awareness and a separate one for attracting customers on, say, Tuesday night.
Bringing more efficiency to those markets, improving the lives of business owners and customers, is an exciting proposition for O'Shaughnessy. When he considered taking the LSAT for admission to law school, he found he enjoyed the test's logic problems—and continued buying practice tests even after he ruled out law school.
Last year, he purchased a Segway to explore whether the machine heralded a new era of local transportation. O'Shaughnessy and his wife, whom he met at Revolution Health, live near DC's U Street, Northwest, some 1.4 miles from LivingSocial's Chinatown offices. Walking to the office takes 35 minutes, commuting via Metro takes 27 to 33, and driving and parking takes 12 to 13 if he can find parking quickly. The Segway takes just 11 minutes with no parking search involved.
"That's efficient—it could save 40 minutes a day," he says. "So why aren't more people using the most efficient technology? Is it because there's no network effect, no infrastructure to support it? Is it because it's too expensive? How could it be made more likely to be adopted?"
Those questions apply equally to LivingSocial's experiences. With close to 100 million users, the company, between its coupon business and its Visual Bookshelf and Pick Your Five apps, has lots of information about users' tastes. Its success has much to do with how it harnesses that data and more efficiently tailors deals and experiences for users—and whether it can do that better than Groupon.
LivingSocial took the first steps in its next incarnation this fall with the October purchase of the New York–based boutique adventure company Urban Escapes. The concept, which LivingSocial is selling in five markets and plans to roll out nationwide, is part of its move into producing guided events. A recent Urban Escapes deal in Washington featured a Shootin' & Drinkin' outing—shotgun training followed by a Scotch tasting; 633 Washingtonians purchased the $80, six-hour trip.
"LivingSocial is about meeting new people and trying new things," O'Shaughnessy says. "It's doing things in real life with your friends."
Says Batalion: "We say that you buy a Groupon but you join LivingSocial."
Right now, Batalion says, the company's goal is to be a multibillion-dollar-a-year business. "That's global," he adds. "It's about the company, the products, the revenue, the staff, the systems necessary to achieve that."
Says O'Shaughnessy: "At that level, you've made the leap to a transformative social brand."
Building a company that can reach from DC's Chinatown into every corner of the world begins for the founders with instilling their own hunger for success in every level of the organization. As Batalion says, "If we build a company, we'll fail. We need to build a cult—instill values, energy, and enthusiasm. If we do that, our cult will win."
All four cofounders have been with LivingSocial longer than they've worked in any other job. All believe it's important that the company reward employees' initiative, reinforce good behavior, and highlight opportunities for advancement. After all, Frederick says, they want to avoid the environment that led to the creation of Hungry Machine in 2007: "We've all done that in other organizations: f— management and go do other things."
Instilling that culture begins with the hiring. "If they don't come off as hungry, they don't make it in," O'Shaughnessy says. "We've resisted the temptation to just throw smart people at things. When you hire someone, you should know exactly what they're doing on day one."
The culture is reinforced at Friday "all-hands" meetings—Webcast from Washington—where the founders discuss corporate strategy and values and take questions from staff. The meetings, once held in a small conference room, are now major productions, with the staff spread among three main offices and scores of individuals on two continents.
O'Shaughnessy keeps an ice-cream cooler in his office to encourage colleagues to visit and chat about what they're working on.
The collegial atmosphere is critical to growth. "If people get political here, I will personally fire them," O'Shaughnessy says. "That's the death of an organization. I was really proud when one LivingSocial employee said, 'This is the first place I've worked where everybody is focused on the outside world.' "
The LivingSocial culture values time off. O'Shaughnessy tries to avoid working or e-mailing colleagues on weekends. "From Monday morning to Friday evening is LivingSocial time," he says, "but Friday evening to Monday morning should be your time." He laughs that in his spare time—limited because he travels nearly two weeks a month—he uses a lot of his company's coupons. As cofounder Batalion explains, "We haven't really had time to celebrate any of our successes."
With barely two years under its belt, LivingSocial seems poised for more strong moves. "You can't have too much money or too many friends," Rainey jokes.
O'Shaughnessy seems especially well positioned: He has married into a family, the Grahams, that's the closest thing Washington has to royalty; he's backed by one of the best-known and wealthiest men in the region, Steve Case; and he's running one of the world's fastest-growing tech start-ups.
But at the end of the day, he believes, the key to success is to gamble wisely—and stay hungry. "Some day," Frederick says, "we'll have all the deals we want and move on to something else."
This article first appeared in the December 2010 issue of The Washingtonian.
Subscribe to Washingtonian
Follow Washingtonian on Twitter
More>> Capital Comment Blog | News & Features | Power 150