This page describes the contents of an issue of Washingtonian magazine. Subscribers get exclusive early access through our print and digital editions. Most of our feature stories are later published online and linked below.
Buy a Single Issue
Subscribe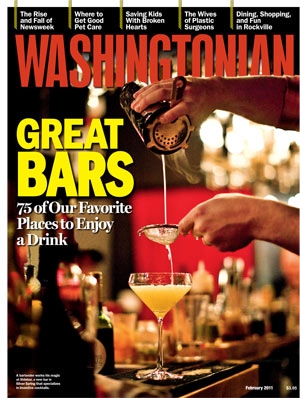 Features
Inside a Washington family saga: Phil Graham buys Newsweek, and under his wife, Kay Graham, the magazine becomes powerful and profitable. Then along comes the Internet, and smart reporting is no longer enough. What's next? Phil and Kay's son Don has sold the magazine for $1, and it's going to be another of Tina Brown's media spectacles. By Harry Jaffe.
She's a mastermind of the Afghanistan war strategy, and she may be the first woman Secretary of Defense. By Spencer Ackerman.
On the day baby Taylor was born, surgeons operated on her to fix her heart. Fifty years ago, the author had surgery to repair a similar heart defect—without it, he wouldn't be alive today. The medical advances between then and now are striking—and the results still miraculous. By John Pekkanen.
How animal-rescue groups offer hope for vulnerable dogs and cats. Plus—a guide to everything for pets, from veterinarians and animal hospitals to dog walkers, pet shops, sitters, groomers, and kennels. By Cindy Rich and Gwendolyn Purdum.
The national "open carry" movement, in which gun owners openly—and legally—carry guns in public, began in Virginia a decade ago. Here are three Virginians who aren't bashful about it. Photographs by Eli Meir Kaplan; text by Michael Gaynor.
Washington has never had so many options for a great night out. You'll find cool cocktail dens, cozy date spots, old classics, late-night dance parties, and gritty dives. Here's a playbook for a more exciting nightlife. Edited by Mary Clare Glover.
Departments
9 Capital Comment
Famous Washington divorces . . . The reporter and the Chinese espionage plot . . . Holiday parties and other boons to the employment bar . . . Good Washington reads—and the art of pressing the flesh . . . Resurrecting the Sunday Post . . . The verdict on Donovan McNabb?
Venice comes to Washington—and Gauguin, too—at the NGA . . . Edward Albee at Arena Stage . . . Alice McDermott's Charming Billy premieres at Round House . . . Lady Gaga at Verizon Center . . . Rosanne Cash at the Birchmere . . . Madama Butterfly at the KenCen . . . Ginger Rogers films at AFI.
What movies are playing at the White House? The answer says something about the people who are watching. By Tevi Troy.
Being married to a plastic surgeon may have beauty benefits, but does it also mean you're always being scrutinized? And do new products and procedures that promise to redistribute or melt away fat really work? Plus—our list of top cosmetic surgeons and dermatologists. By Cathy Alter, Salley Shannon, and Sherri Dalphonse.
It's home to excellent restaurants, unusual stores, and a bustling town center. Here's a guide to where to go and what to enjoy. Edited by Mary Clare Glover.
137 Dining Out
Visionary chef Michel Richard's Tysons Corner place is a masterwork in progress. Plus—an ode to New Orleans in Arlington and terrific Mediterranean chicken in Bethesda. By Todd Kliman, Kate Nerenberg, and Rina Rapuano.
144 Kliman Online
Tips and insights from the food and wine editor's weekly chats on Washingtonian.com.
At nature camps, children turn off text messages and video games and explore the wonders of the great outdoors. By Zac Farber.
152 Benefits
Good times for good causes in February. By Eleni Savopoulos.
Free skiing and massage, suite deals, and other weekend bargains that will help banish the winter blues. By Andrea C. Poe.
Ski resorts within driving distance of Washington offer year-round fun. By Mollie Reilly.
Eight baths, $4 million—plus deals by ex-Redskin Fred Smoot, chef Jeff Tunks, and former vice-presidential candidate Geraldine Ferraro.
Airlifted out of Cuba 50 years ago, he now counsels Presidents. By Paul Barbagallo.
A forty-something basketball fanatic tries to prove he's still got it. By Andrew W. Cohen.