This page describes the contents of an issue of Washingtonian magazine. Subscribers get exclusive early access through our print and digital editions. Most of our feature stories are later published online and linked below.
Buy a Single Issue
Subscribe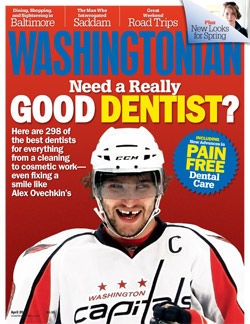 Features
After the US invasion of Iraq, a Washington FBI agent found himself with an unlikely assignment: Interrogate the captured dictator. By Garrett M. Graff.
In a Cold War bunker in the Blue Ridge Mountains, archivists are gathering every movie, TV show, and album they can get their hands on—good, bad, and awful. What will it tell future generations about us? By Michael Gaynor.
A principled conservative with the guts to take on the liberals? An intolerant bully who's an embarrassment to Virginia? Like him or not, you'll probably hear a lot more from him. By Susan Baer.
Drummers have been bringing rhythms to Meridian Hill Park for decades, and the crowd keeps growing and changing. By Jessica Weiss.
Montgomery County is one of the nation's richest suburbs. By showing the side of it that many people don't see, Reverend Tim Warner hopes those who have plenty will take more notice of those who don't. By Cindy Rich.
Here are 298 of the area's best general dentists and specialists. Plus—how dentists are making the patient experience more pleasant, new technologies, and other breakthroughs in the field.
Departments
11 Capital Comment
How the media celebrity dinners compare . . . Rockville's teen Jeopardy winner . . . High-flying heads of state . . . Who's who in restaurant dishes' names . . . Post bloggers, left and right.
NYC Ballet at the KenCen . . . Arturo Sandoval at Strathmore . . . Civil War photos at the Library of Congress . . . Ira Glass at Lisner . . . The Color Purple at the National . . . Filmfest DC.
The hosts of HGTV's Real Estate Intervention talk about staging a home, what sells, and what doesn't.
42 Unnecessary Roughness
A SWAT team used to be reserved for worst-case scenarios. Now two recent cases have prompted local police to rethink their break-down-the-door policies.
A walk among the graves at Congressional Cemetery reveals stories about our past that you won't find anywhere else.
113 Benefits
Good times for good causes in April.
After a long winter, what better way to shake off cabin fever than a fun road trip? Here are 17 terrific escapes, all within an easy drive.
These resorts in Florida and the Caribbean offer exclusive reader deals.
For a weekend away, throw a few of this season's young-at-heart fashions into an overnight bag and go.
Top personal trainers, yoga teachers, golf pros, running coaches, and other workout experts.
153 Dining Out
Hot dogs are appearing everywhere, and we went out to find the best. Plus—an Indian delight in Fairfax, good and fast Peruvian in Rockville, a gas-station fill-up in DC, and a neighborhood bistro in Cabin John.
162 Best Bites
Deviled eggs to die for . . . Recipes for matzo candy and buttermilk pie . . . Top bagels and lox.
It feels a world away, but Charm City and its attractions are a quick drive from DC. Here's where to eat, drink, shop, and have fun.
179 Luxury Homes
Ted Leonsis pays $20 million in Potomac.
181 Lots of Character
Boutique condos are popping up in historic townhouses, an old firehouse, a former church.
Her poodle kept her company for 16 years. Losing her was harder than she'd ever imagined.
215 Fast on Their Feet
The Manzari brothers are teenagers, but they're already dancing with the stars.
When she ran her first marathon, it was part of a life plan she hoped would lead to a baby.