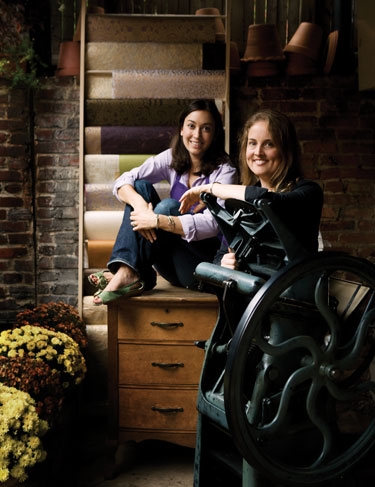 The Experts: Stationers Sarah Meyer Walsh and Erin Miller
Haute Papier
What are your suggestions for an unusual save-the-date card?
One of our favorite ideas is to "publish" a magazine all about your wedding—from a story on how you met to reviews of restaurants in the town where the wedding will take place. We don't like the trend of sending out Evites as "save-the-dates" or invitations. Your best friend from college might not mind having the invite come into her Outlook inbox, your Aunt Jane might not be so impressed.
Any advice for couples who'd like to make their own wedding invitations?
Before you take on the project of creating invitations yourself, it's important to assess how comfortable you feel designing, cutting, and gluing. We do this daily, as all of our invitations are handmade, and a set of 100 invitations can take three full-timers anywhere from 30 hours to weeks. If you are set on do-it-yourself invitations, visit your local paper store to figure out costs. Then, assess whether you really have time for the project.
Do you offer recycled-paper invitations?
Most of the papers we use (and have been using for the last couple of years) are at least 30-percent post-consumer recycled paper. We've gone as far as using soy-based inks while letterpressing on saa paper. It is important, as part of our business model, to be as environmentally responsible as we can be, but surprisingly, not that many people seem to be concerned about it.
How much time do you recommend to create a custom invitation?
We recommend four to six months. That gives everyone involved plenty of time to put together the absolutely perfect invitation set. With that being said, we've done things in a matter of hours.
What's the weirdest invitation request you've ever gotten?
Two of our favorites were sending full bottles of Veuve Cliquot via bike courier and creating invitations cut into the design of papel picado [perforated paper]. We always work off of what the client is looking for.
This interview first appeared in the Winter/Spring 2009 issue of Washingtonian Bride & Groom. Photograph by Dean Alexander.
Subscribe to Washingtonian
Follow Washingtonian on Twitter
More>> Bridal Party Blog | Wedding Guide | Wedding Vendor Search