This page describes the contents of an issue of Washingtonian magazine. Subscribers get exclusive early access through our print and digital editions. Most of our feature stories are later published online and linked below.
Buy a Single Issue
Subscribe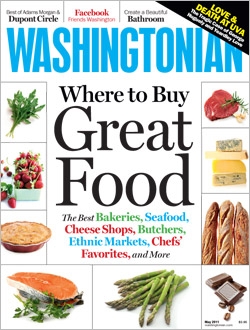 Features
Two athletes became a campus couple. Then she tried to break up. The case against George Huguely in the death of Yeardley Love seems open-and-shut, but why did it happen? And could it have been prevented? By Harry Jaffe.
The social network now connects one in two Americans and half a billion people around the world. Washington wants to know what the company is doing with all that information. By Joseph Guinto.
Our tech scene is the hottest it's been since the dot-com glory days of the 1990s. Here are 100 leaders who are making the region grow. By Garrett M. Graff.
72 Winners
Talented kids, inspiring coaches, and big victories—all captured in pictures from the White House News Photographers competition.
She let him handle all their money. When he died, lawyers told her he had been cheating the IRS. And she was on the hook for millions. By Carol Ross Joynt.
He was the power behind the throne in the George W. Bush White House and the legal architect of the war on terror. But he'll tell you not to believe the hype. By Kirk Victor.
A shopper's guide to the area's best butchers, bakeries, farmers markets, seafood counters, ethnic grocers, and more. Plus—25 terrific ideas for takeout.
Departments
9 Capital Comment
Tax troubles of the VIPs . . . The new capital power couples . . . Why geeks succeed . . . Libya's Washington lawyer . . . Book of the month . . . Will KayWey follow Don at top of the Washington Post?
Sugarland at Merriweather Post . . . Canaletto, Tintoretto, and Tiepolo drawings at NGA . . . Sondheim's Follies at the KenCen . . . Itzhak Perlman at Strathmore . . . The Washington Ballet does Carmen . . . Bonsai, book, film, arts, and food festivals.
Journalist David Broder never wanted to do anything but write about pols and politics. They don't make them like him anymore. By Susan Baer.
We may like the idea that people should remain faithful to their friends. But ask a politician to be loyal? It may be both dumb politics and bad for the country. By Eric Felten.
He wasn't sure what to say to the young widow, but they shared an unusual bond. They gave each other a lifeline—until more bad news arrived. By Dario DiBattista.
The Washingtonian's Green Awards honor people who protect our environment by finding local food treasures, by sending kids into the wild, by building and living in ways that benefit us all. By Leslie Milk.
It's easier than ever, thanks to advances in technology as well as gorgeous tiles and fixtures. Here are expert tips, the latest trends, and resources to help you through a renovation. By Katie Knorovsky, Sherri Dalphonse, and Melissa Romero.
In these neighborhoods, you'll find a mix of cool coffeehouses, bookstores, and art galleries—plus good restaurants for every taste and occasion.
167 Benefits
Good times for good causes in May. By Katharine Ragsdale.
169 Just for Mom
Spoil your mother or wife with these reader specials on jewelry, spa treatments, afternoon tea, flowers, and more. By McLean Robbins.
Executives in finance, marketing, real estate, and public relations make deals. Plus—a member of the Saudi royal family buys in Great Falls.
When a pair of friends decided they both wanted a dog but didn't have time to care for a pet, they came up with a better idea: They'd share one. By Rina Rapuano.
207 Moving On Up
With a new album, this singer/songwriter is poised for success. By Eliot Stein.
She's a voice for people who aren't used to having one. By Emily Livingston.