This page describes the contents of an issue of Washingtonian magazine. Subscribers get exclusive early access through our print and digital editions. Most of our feature stories are later published online and linked below.
Buy a Single Issue
Subscribe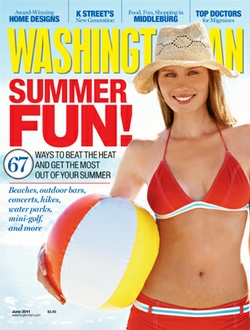 Features
Harvey Fry is a man obsessed on several unusual fronts. But his obsession with a spirit has helped launch a one-of-a-kind drinking establishment. By Todd Kliman.
46 Hounds at Play
A beautiful day in the country, a pack of beagles chasing rabbits, and a bunch of locals dressed like Brits in hot pursuit. Photographs by Eli Meir Kaplan; text by Michael Gaynor.
(This link is to an online revision of this article). Few of his Georgetown neighbors recognize Dominique Strauss-Khan, but he might just be the next president of France. Will he run? By Apolline de Malherbe.
The Lady Crusaders are one of the nation's top basketball teams. For the players, basketball isn't just a game; it's getting a shot at college and a better life—just as their coach once did. By Emily Leaman.
Meet 40 star lobbyists—all under age 40—who are shaping the policies that will affect us for years to come. By Marisa M. Kashino.
From poolside dance parties and outdoor concerts to water parks and more, here's how to get the most fun out of the season. Plus—loving the beach: From the lively boardwalk town of Rehoboth to pristine Assateague Island to family-friendly Bethany Beach, here's where to find a great stretch of sand.
Department
13 Capital Comment
Charting a Hill career . . . For sale: former abodes of the famous and infamous . . . The DC dinner party in haiku . . . Dream apps . . . Good Washington reads . . . Meet the Post Fixettes.
John Legend and Sade at Verizon . . . Putnam County Spelling Bee at Keegan . . . Step Afrika! at Atlas . . . Kandinsky and Stella at the Phillips . . . Emanuel Ax at Strathmore . . . Fresh voices at the Source Festival . . . Silverdocs at AFI.
Stephen Sondheim is a legend of Broadway. But the composer/lyricist has long enjoyed a special rapport with Washington audiences. By Lester Reingold.
After stepping down as Justice's top lawyer for national security, David Kris reflects on an unexpected career and whether we're safer than before 9/11. Interview by Shane Harris.
I was more excited about Antiques Roadshow than my wedding, but what I learned took the shine off my favorite program. By Cathy Alter.
109 Best of Middleburg
Scenery and horses aren't the only reasons to visit Middleburg. It also has fine dining, one-of-a-kind shops, and beautiful vineyards.
121 Dining Out
Hill Country in DC features Texas-style brisket; Bubby's in Bethesda does it deli style. Plus—Farrah Olivia's second act in Arlington and a first look at Medium Rare in DC's Cleveland Park.
129 Best Bites
Good morning sweets . . . How to get a hot table . . . Tastier oil and vinegar . . . A top-notch Korean bakery . . . The complete home bar.
135 Benefits
Good times for good causes in June. By Katharine Ragsdale.
136 Great Home Designs
The winners of the Washingtonian Residential Design Awards. By Mary Clare Glover.
Whether he's into fine Scotch, classy clothing, or dining out, here are discounts to help you make it a good Father's Day. By McLean Robbins.
143 Great Finds
Shoes and bags featuring bright colors and dramatic patterns. By Jill Hudson.
149 Lifting the Pain
Doctors are applying new knowledge about migraines to help people find relief. Plus—where to go for help. By Laura Hambleton.
155 Taking the Train
Easier commutes and higher home values: Here are new-home communities close to Metro, VRE, and MARC stations. By Melissa Romero.
Five attorneys make deals for $1 million and up; billionaire Michael Heisley sells in Spring Valley.
Forget cargo holds. Now there's an airline just for cats and dogs. By Julyssa Lopez.
Patterson Clark finds creative uses for unwanted plants. By Carrie Madren.
But what I really wanted to do was tell stories. And play rock 'n' roll. By Ron Liebman.