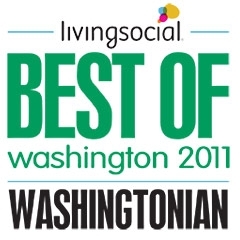 Monday, June 20
THEATER: Don't miss Nine Lives, the musical adaption of the best-selling book by Dan Baum at the Sixth & I Synagogue. The story follows nine New Orleanians through not one, but two natural disasters—Hurricane Betsy in 1965 and Hurricane Katrina in 2005. Tony Award-winning actor Michael Cerveris and singer-songwriter Paul Sanchez bring this story to life through an eclectic range of musical genres, including jazz, hip hop, rock, and Mardi Gras Indian chants. Tickets ($20) can be purchased at the event Web site or on the day of the show for $23. Doors open at 7 PM, Performance begins at 8 PM.

Tuesday, June 21
MUSIC: Aretha Franklin, the one and only Queen of Soul, is stopping by the Wolf Trap Foundation for the Performing Arts tonight. Vance Gilbert will accompany the Grammy winning diva. Here's hoping she sings "Respect." Tickets ($25 to $45) can be purchased at the event Web site. 8 PM.
Wednesday, June 22
WASHINGTONIAN HAPPY HOUR: Your favorite magazine— The Washingtonian, of course!—is hosting a free happy hour at Ping Pong Dim Sum to gear up for the LivingSocial Best of Washington party on July 13. (If you're not already a subscriber, you can win tickets to the LivingSocial party by buying a one-year subscription, which is awarded to one person every weekday in June. Details can be found here.) Enjoy complimentary food and drinks, and be sure to pick up specially discounted tickets for the "Best Of" blowout. 6 to 8:30 PM.
Thursday, June 23
BLOCK PARTY: Live Green is celebrating its third birthday with a Summer Block Party at Local 16. Your ticket gets you a gift bag filled with eco-friendly goodies, appetizers and one free drink, massages from Well Being Massage, and a chance to win a bunch of prizes. Live music will be provided by the DC-based jazz band House of Soul. Tickets ($15 for members, $20 for non-members) can be purchased at the event Web site. Tickets can also be purchased at the door for $25. 6 to 9 PM.
Subscribe to Washingtonian
Follow Washingtonian on Twitter
More>> After Hours Blog | Arts & Events | Happy Hour Finder | Calendar of Events