"Harry Potter and the Deathly Hallows, Part 2" opens at pretty much anyplace with a screen this weekend
Harry Potter and the Deathly Hallows, Part 2
All good things must come to an end, and after ten years and eight films, the residents of Hogwarts—having grown from little shavers to literal ones—are reaching the end of their long broomstick ride. It's a remarkable achievement: They've kept the cast largely intact, apart from the sad death of original Dumbledore Richard Harris, and by and large the quality of the films has been enough to keep any fatigue at bay. Sure, the first two kiddie-friendly Chris Columbus installments were a little on the cartoony side, and The Order of the Phoenix was a bit of an overlong slog. But Alfonso Cuaron's Prisoner of Azkaban is a marvelous film by any measure, and an insightful look at the awkward entry into the teenage years. David Yates last two entries have increased in complexity and maturity along with the young wizards, with the first part of The Deathly Hallows last year breaking away from the structured Hogwarts-based storylines of the rest of the series in ways that were a credit to both author J.K. Rowling's storytelling and Yates' ability to bring a definitive and artistic directorial vision to a series that is also a multi-billion dollar business, and the most lucrative franchise in movie history.
That's a lot of pressure on this final installment to deliver, as the story leads to the inevitable showdown between Harry and his lifelong nemesis, the evil wizard Voldemort, and every viewer settling into their seat will be hoping for the perfect end to tie the story together and send them off with fond memories of a series well completed.
View the trailer. Opens Thursday night at midnight, at pretty much anyplace in the area with a screen to show it.
Passages from James Joyce's Finnegans Wake
Mary Ellen Bute made her name as an animator of musical short films in the '30s and '40s, but for her final project, she took on the ambitious task of creating a live action, experimentally minded adaptation of Finnegans Wake. She worked on the film for three years during the mid-'60s. Bute was the first filmmaker to attempt to take on any of James Joyce's often inscrutable material, and even today those attempts have been few and far between. Barely seen for many years, Yale University Film Study Center, the National Film Preservation Foundation, and local film lab ColorLab have partnered to restore the film. It screens this weekend at the National Gallery with a 1958 narrative short by Bute, The Boy Who Saw Through, which features Christopher Walken, who was only 12 at the time.
View an excerpt from the film. Saturday at 2 PM at the National Gallery of Art.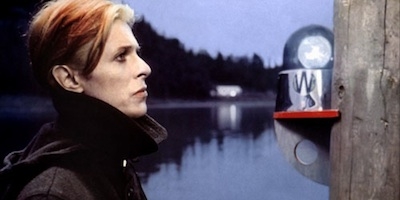 David Bowie's first foray into feature acting remains a beloved cult classic, a dreamy example of the sort of quiet, thoughtful, science fiction that was the norm post-2001: A Space Odyssey and pre- Star Wars. Adapted from a 1963 novel by Walter Tevis, and with the distinctive direction of Nicholas Roeg, Bowie stars as an alien who has come to earth to search for an alternative water source for his own dried-up planet. While here, he becomes rich by bringing the technological advances of his planet to earth, however in the process of assimilating, human appetites end up bringing him down. His own susceptibility to these distractions ends up making him as human as we are, and one is left to wonder if the drought on his own planet is the result of the failings of his own people; and if so, if we may be doomed to the same fate, unable to save ourselves from ourselves. E Street is screening this film with a new 35mm print, in honor of its 35th anniversary this year.
View the trailer. Opens Friday at E Street.

Blade Runner: The Director's Cut
The AFI's summer series continue with an intimidating array of options in the coming week, but if I have to choose just one, it's Ridley Scott's landmark 1982 dystopian sci-fi film, Blade Runner, which is playing as part of their retrospective of '80s movies, and is one of the many films you can fire back at anyone who claims that decade was a decade of throwaway cinema. Scott's film, which is based on a Philip K. Dick story, and remains the finest adaptation of the authors work ever put on screen, blends dystopian sci-fi with roots going back as far as Fritz Lang's Metropolis with hard-boild film noir, presenting it all with a dirty neon sheen that ought to feel rooted in the 80s, yet has avoided feeling dated at all. The story follows Harrison Ford's Decker, a special kind of cop—a "blade runner"—who's task is to hunt down androids—"replicants"—who have escaped the labors for which they were created and have attempted to assimilate into society. Scott's film is a dark beauty to behold, has thrilling action, and climaxes in undoubtedly the most moving speech ever given in a movie by what is essentially a robot, addressing issues of our responsibility to artificial intelligences that we create once they've gained consciousness. A few distinct versions of the film have seen release over the years, and the AFI will be showing the 1991 director's cut, which made significant changes from the original theatrical release, most notably excising a voiceover from Decker from the 1982 version that the studio had mandated because they felt the film needed more explanation.
View the trailer. Friday and Saturday night at the AFI. See their Web site for all of their continuing summer retrospective series.
Azazel Jacobs' last film was the criminally underseen Momma's Man, the story of a thirty-something man regressing back into his childhood on an extended visit to his parents, retreating from the ugly realities of his current life. His follow-up, Terri, is far more conventional and polished than the minimalist near-mumblecore feel of that last film, but it retrains both the offbeat sense of humor and Jacobs's talent for drawing quietly profound performances out of his actors. The story is again centered on a social misfit, the titular Terri, an overweight, parentless teen who is the caretaker for an uncle who slips in and out of lucidity. The increasingly sad situation at home, and his friendless status at school are wearing on him, and he begins showing up late and wearing his pajamas to school, at which point the school's principal (John C. Reilly, reminding us that he's a far better actor than the string of goofball comedies he's done lately would indicate) takes an interest. Things hardly play out as one would expect, and Jacobs twists the norms of coming of age stories into a memorable, unsentimental, and memorable film.
View the trailer. Opens Friday at The Avalon and Shirlington.

DVD/Blu-ray Pick of the Week: Naked
This film, my favorite from director Mike Leigh, and among my favorite films in general, has been out on Criterion DVD for some time, but has been remastered for Blu-ray for the first time this week. David Thewlis (who also appears as Professor Lupin in this week's Harry Potter concluding episode) is mesmerizing as Johnny, a charismatic drifter who is the poster child for being wildly unsuccessful even with the benefit of a brilliant intellect and a classical education. In his case, knowing too much has, in a way, brought him to his knees: he can see the potential in the world, and can therefore see that much more clearly how it is failing and crumbling, brick by brick, stone by stone. Johnny is pegged by many as a cynic and a nihilist. Leigh, in interviews, has corrected them: rather, he's a devastatingly disappointed optimist. Johnny has seen too much, paid too much attention, and had his hopes dashed too many times to be anything but shattered.
In response to his despair he acts out on those around him, belittling and talking circles around those with inferior intellects (which is pretty much everyone he encounters), and by turning consensual sex into an act so rough and so demeaning that it more resembles rape by the time he's finished. In the end, though, he is no better off than those
he abuses and belittles, because there is always someone bigger and stronger and more hateful to do the same to him. Sometimes we see the glimmer of hope in his eyes as he meets someone new, flitting from doorway to doorway in the night, but inevitably he turns on them before they can turn on him, the hope turning to fear and sadness on a dime. Smart as he is, he can't see the parallels between his approach to human interaction and the concept of self-fulfilling prophecies he wonders aloud about during the film. He's an anti-hero, yet we, like many of the people he encounters in the film, can't help but be drawn to him. He pulls us in the same way he pulls in the disaffected and dissatisfied people around him, and when he falls to the floor, crying, delirious, hallucinating the demons of his childhood, beaten both body and soul, our hearts even break a little for him, hateful though he can be.
Special Features: Audio commentary by Leigh, Thewlis and actor Katrin Cartlidge; a video interview with director and playwright Neil LaBute; an interview with Leigh from the BBC program The Art Zone; The Short and Curlies, a 1987 Leigh comedic short also starring Thewlis, with audio commentary by Leigh.
View the trailer:
Subscribe to Washingtonian
Follow Washingtonian on Twitter
More>> After Hours Blog | Arts & Events | Happy Hour Finder | Calendar of Events