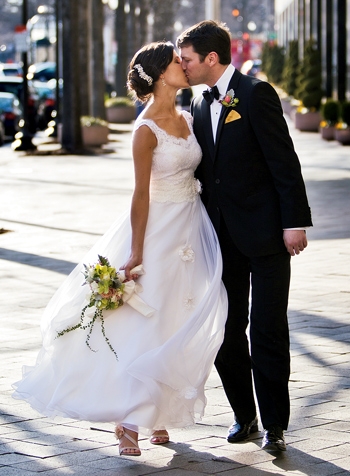 The portrait still sits on the dresser in my parents' bedroom. It's a picture of my mother in her wedding dress, her back to the photographer. As a girl, I would examine the picture for entire afternoons. I loved my mother's dark hair and profile, the gentle expression on her face, her eyes lowered over her left shoulder. Most captivating of all, however, was what she was wearing: a perfect white dress.
"Someday you can wear that dress to your wedding," Mom would say. I'd always refuse, making a mental note of wearing my own dress. "Okay, then I'll wear it" to your wedding, she'd reply with a smile.
As the years passed, I never forgot about the offer, but I certainly didn't think about the actual dress until I got engaged in June 2010. One night after dinner at my parents' home, my mom unexpectedly led me upstairs to her bedroom. There, next to the dresser and her treasured wedding-day portrait, was a box. I looked inside to see the white lace confection behind a sheet of cellophane paper. It was the first time I'd ever seen it.
"No promises," I told her as I stepped gently into the delicate chiffon, shimmying the skirt over my hips. "If you don't wear it, I will," she said with a laugh, reminding me of her chiding threat.
I slipped my arms through the lace sleeves, looked into the mirror, and let out a deep breath. Then we started the negotiations.
"Maybe, but we would have to drop the waist, and get rid of the sash." "OK." "And do something about the sleeves." "OK." "And we definitely have to lower the back." Silence. I looked at Mom and said, "If we're going to do this, we have to work together." "OK," she said one last time.
And so began the slow, careful process of making my mother's dress mine. We found Clemencia Snell, a talented seamstress, and prayed that she would have enough patience to work on such an emotionally charged project. She did. Besides alterations for size, Clemencia needed to replace the dress's original silk rosebud appliques. New ones were found in New York City, where a fabric designer who knew Ron LoVece, the original designer of my mother's gown, still worked.
"It's the same guy!" my mother shouted excitedly over the phone that afternoon. "He told me he made silk flowers for Ron for 30 years!" We ordered one dozen.
I also scoured the Internet for images of current wedding gowns that would inspire the update of my dress without altering it beyond recognition. The two dresses I most admired had a romantic neckline and a V-shaped back, and were both designed by Monique Lhuillier (whose own wedding gown, coincidentally, had been made by Ron LoVece).
I will always remember the way my mom looked at me on my wedding day. It wasn't unlike the way I used to stare at her wedding portrait in her bedroom. After nine months of careful and inspired alterations, my "something old" wedding dress had morphed into a "something new" good-luck charm. The lace, chiffon and silk flowers in that one garment had been sewn together with compromise, acceptance, and love. On that March day, I realized that wearing Mom's dress had given me a fresh perspective into our relationship, and that we had created together a design that will never be out of fashion.
This article appears in the Summer / Fall 2011 edition of Washingtonian Bride & Groom.
Subscribe to Washingtonian
Follow Washingtonian Bride & Groom on Twitter
More>> Bridal Party Blog | Wedding Guide | Wedding Vendor Search