This page describes the contents of an issue of Washingtonian magazine. Subscribers get exclusive early access through our print and digital editions. Most of our feature stories are later published online and linked below.
Buy a Single Issue
Subscribe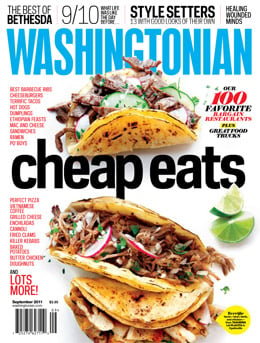 Volume 46, Number 12
Cover Story
At a time when burgers can run $18, it's good to know that some of the area's most exciting eating can still be had for $25 a person
or less, tax and tip included. Here are our 100 favorite bargain restaurants—plus a guide to the top food trucks.
By Todd Kliman, Ann Limpert, Kate Nerenberg and Rina Rapuano
Cover Photo by Scott Suchman with food styling by Lisa Cherkasky
Features
No one asks, "Where were you on 9/10?" And most Washingtonians don't remember. It's only in hindsight that the details of an ordinary day seem so remarkable. By Shane Harris
He wants to turn DC's Southwest waterfront into Washington's hottest neighborhood. It'll cost
$2 billion, and he's never done anything quite like it before. By Mary Clare Glover
Thirteen of the area's most fashionable people met for a lively dinner and good conversation. It was an affair to remember.
By Jill Hudson
The scars of war sometimes can't be seen. Military men and women now are returning with brain injuries that would have been fatal in earlier times. Here's how the nation's warriors and the medical teams that treat them are fighting these unseen battles.
By John Pekkanen
Sorting fact from fiction in the stories Washingtonians like to tell. By Mollie Reilly
Departments
Capital Comment
Carving MLK's words in stone . . . Michele Bachmann's law school . . . What's with the giant martini? . . . DSK's Washington lawyer . . . Why gutters are hot . . . Books in the White House . . . Washington reads . . . Chatting with the buyers of Politics and Prose . . . The new New York Times bureau chief . . . Summer coolers.
Where & When
Andy Warhol around the Mall . . . Arabs Gone Wild at Lisner . . . Kronos Quartet at Clarice Smith . . . The Fillmore opens—with Mary J. Blige—in Silver Spring . . . Les Misérables comes to the KenCen . . . Peter Pan at Wolf Trap . . . 9/11 remembered at American History . . . Toni Morrison and more at the National Book Festival.
A husband-and-wife writing team talk about why political patronage matters, the difference between journalists and academics, and
what it was like to grow up with William Safire. Interview by Garrett M. Graff.
Tim Massad oversees one of the most unpopular government programs in history, but surprisingly he's making money for the taxpayers. By Luke Mullins.
Need your carpets cleaned? A room painted? Here are exclusive reader discounts for work around the house—including a big renovation. By Sherri Dalphonse.
Makeover Magic
Three women, three wardrobes that weren't working. It was time to call in the pros. Plus—how one expert gave a wardrobe new life and consultants who make dressing for any occasion easier. By Sarah Zlotnick and Kelly DiNardo.
Former Redskin Shawn Springs collects a bundle in McLean. Plus—power couple Michael Kinsley and Patricia Stonesifer spend $2.5 million in Dupont Circle.
When an American contractor in Afghanistan fell in love with a stray dog, she knew that she couldn't leave the animal behind. By Kris Coronado.
Board of Education
Skateboarding helped Darren Harper escape a life of dealing drugs. Now he's taking his message to the streets. By Jason Koebler.