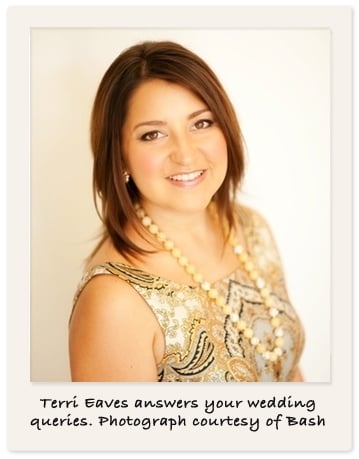 Wedding planner Terri Eaves of Bash stopped by the Bridal Party to answer your wedding planning questions. Today, we're featuring the first half of her answers, the rest will go live tomorrow.
KIDS AT THE WEDDING
Question: I'm planning something of a "destination wedding" in the state where I grew up. I say this because just about every guest will be traveling in from out of state and making it a vacation for their families. However, I have the trouble of what to do with their children. We've decided to allow children at the wedding, but this will mean that we will have up to 25 kiddos under 12. I'm fine with providing a kids' table and possibly even hiring a magician to entertain them, but what about the guests who want to bring their children along on their vacation, but would prefer an adults-only evening at the wedding? Are we obligated to set up some sort of off-site daycare in addition to the children's entertainment at the wedding? My budget isn't large enough to pay for a babysitter for all those kids. Please help!
Eaves says: "I see this dilemma many times! Because you are inviting children to the wedding, don't feel obligated to provide a babysitter. For those parents who want to enjoy the evening, they would be responsible for their own child care since you are not telling them their kids aren't invited."
"I would though set up a play area for them complete with kids table and activities. Each place setting can have a gender-specific bag (such as lip gloss and mini diary for girls, cars and play dough for the boys). Be sure to get them kids meals as well through your caterer."
"If not having a professional babysitter to keep an eye on them worries you, ask a couple of your teenage guests to help watch them. Teenagers love being in charge and will find the responsibility really exciting if asked to do so at your wedding!"
• • •
HOT COLORS
I'm having trouble selecting a color scheme for our wedding. What are some of your favorites?
Eaves says: "Right now I'm really loving neutrals with a slight pop of color: golds, ivory, and grays. For color: soft pinks, purples, yellows and greens are favorites."
• • •
"PLUS ONE" ETIQUETTE
I am recently engaged and am making my way through wedding planning with miraculous ease, thank goodness. While we have had few issues so far, my fiancee and I are both from large families, and are active in our community, so we are having trouble cutting down the guest list.
Most of our friends are either married, engaged, or in serious relationships. I have two girlfriends that are single and bitter about it. They have both complained to me and several of our friends many times about not being invited with a "plus one" to other friend's weddings, even though they were not dating anybody seriously at the time.
Since my fiancee and I have plenty of people that we are actually close to that we want to invite to our wedding, we are not planning to invite them with a "plus one." If they get into a serious relationship in the next few months, we would be willing to reconsider, but we do not want random people there that we don't know. What is the general etiquette for inviting single guests with a "plus one?" I have heard some people only inviting si"ngle people with a guest if they are engaged, but I think that sounds a little drastic. Any input on this would be most appreciated!
Eaves says: "I'm glad to hear planning is going so well! This is a really tough subject. If you have some friends that are serial daters, you could have a few people at your wedding that are complete strangers. Not to mention, a friend may go through a few different dates (escort cards) before the day actually arrives."
"It is gracious to allow guests who are not married to bring a date. Some people set a time frame (if they've been dating for months or longer, a date is allowed, for instance). I think this is a really sticky situation and advise that if the couple is living together or in a serious relationship, they must be invited. For everyone else, I'd take it on a case-by-case basis—maybe allowing dates that you and your fiancé know personally."
• • •
REHEARSAL DINNER GUEST LIST
I'm the mother-of-the-groom planning a rehearsal dinner. Who should be invited to this event? Just the bridal party and close family? Or do all out-of-town guests need to be included?
Eaves says: "Traditionally, the wedding party, their spouses/dates, parents, and grandparents are invited to the rehearsal dinner. However, nowadays you will see hosts inviting all the out-of-town guests. The latter is much more costly, and can turn into a mini-wedding!"
"If you find that your guest list is growing, think about doing something besides a dinner. Maybe it's a reception with cocktails and heavy hors d'oeuvre or champagne and dessert. The idea is that you are celebrating the joining of the two families, so do something where you can invite as many guests as your budget comfortably allows!"
• • •
A RUSTIC WEDDING IN WASHINGTON
I'm loving all the California vineyard weddings I see on the blogs, and I really want my wedding to have that style, but somewhere in the DC area. Are there any venues nearby that have that type of rustic vibe?
Eaves says: "There are some great venues similar to these near Charlottesville, Middleburg and points west of DC! Some of my favorites are: King Family Vineyards, Veritas Vineyards, and Keswick Hall."
If you have planning needs and are interested in Bash, please contact Terri at info@bashdc.com.
Stay tuned tomorrow for more wedding planning answers and advice from Terri!
Don't forget to check out the rest of our Vendor Q&As for the month of September here. E-mail your questions to vendorchats@washingtonian.com!
Subscribe to Washingtonian
Follow Washingtonian Bride & Groom on Twitter
More>> Bridal Party Blog | Wedding Guide | Wedding Vendor Search