It was a wild night: The bouquet toss (left), and the cupcake eating contest (right). All photographs by Tony Brown of Imijination Photography
As part of Fashion's Night Out in Georgetown, 49 brides (and one good-sport groom) competed in the "Get Hitched in Georgetown" contest, where one lucky winner received an entire wedding package, including a wedding reception at Sequoia, a bridal gown valued at $4,500 from Hitched, a custom Theory tuxedo from Lost Boys, invitations from the Dandelion Patch, a wedding cake from Patisserie Poupon, a honeymoon wardrobe from J.Crew . . . and the list goes on. You can check out the full list of prizes here. The recently engaged ABC 7 news anchor Alison Starling emceed the event, and I served on a panel of judges that included event planner Andre Wells, Hitched owners Carin Rosenberg Levine and Julia Litchtman Kepniss, Daily Candy editor Annie Lou Bayly Berman, and Janice, the Capitol Fashionista. Here's how the competition went down:
Round One: Mystery bouquet toss! Volunteers tossed 50 bridal bouquets to the contestants­—half tied with red ribbon, half tied with black ribbon. After they caught them, the contestants found out that the ones who picked the black-ribboned bouquets moved on to the next round.
Round Two: A cupcake-eating contest! Each contestant ate as many Safeway cupcakes as he or she could in 60 seconds. Those who ate more than three cupcakes moved on to the next round.
Round Three: Trivia! The contestants were asked the following three questions. If contestants got one of the three answers right, they moved on to the next round.
1. Who designed Carrie Bradshaw's wedding gown in the Sex and the City movie?
2. Who designed Kate Middleton's wedding dress?
3. Which princess had an MGM costume create her wedding gown?
Round Four: Toilet paper wedding dress fashion show! Each contestant and a team of three friends created a wedding dress made entirely out of toilet paper. Each contestant then modeled her the gown on the runway. Judges scored each creation on design, construction, and originality (so Project Runway!).
And the winner was: Kyosha Johnson, who works at Lacoste in Georgetown (her fashion know-how totally shows—how fabulous is her toilet paper gown?). She'll marry her fiance and Howard University sweetheart, Deric Canty, in a "casual, vintage-inspired" celebration at Sequoia.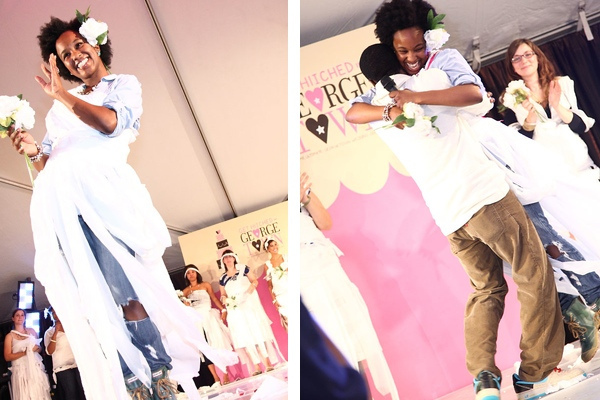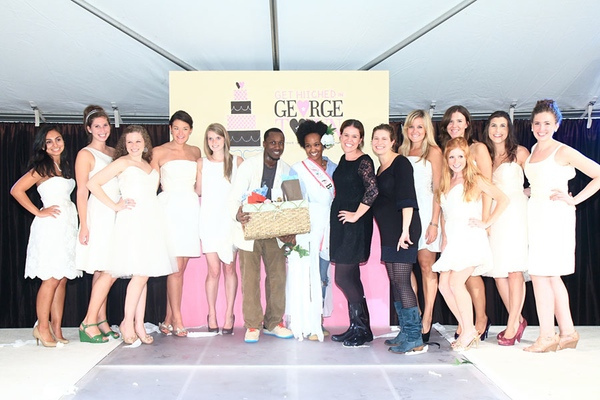 The winner, Kyosha Johnson, poses with Carin Rosenberg Levine and Julia Lichtman Kepniss of Hitched, and their Amsale-clad staffers
Answers to trivia questions: 1. Vivienne Westwood, 2. Sarah Burton for Alexander McQueen, 3. Princess Grace of Monaco
Subscribe to Washingtonian
Follow Washingtonian Bride & Groom on Twitter
More>> Bridal Party Blog | Wedding Guide | Wedding Vendor Search