To keep her skin looking radiant, Chantel drank lots of water in the weeks leading up to her wedding day. All photographs by Susan Hornyak
New mom Chantel wanted to look "classic and elegant" for her recent wedding to Stephen at Oxon Hill Manor, photographed by Susan Hornyak.
"I wanted to look like a million bucks without spending a million bucks," she said.
Here's how she got the look:
Gown: David's Bridal in Bowie
"I was very hesitant to try on a lace gown because I felt like lace was too old-fashioned," says Chantel. "But once I tried it on, I instantly fell in love! I knew it would look perfect at in the gardens at the manor. To top it all off, the gown was in my price range! I saved enough money to buy a veil, bra, and mermaid slip."
Shoes: Max Studio from DSW.com
"I wore a satin sandal with five-inch heels," Chantel says. "I've never worn five-inch heels in my life but they were so comfortable. Definitely a shoe I will wear again."
Jewelry: "I had the honor of wearing my mother's pearl earrings, necklace, and bracelet," says Chantel. "She purchased them years ago in China."
Hair Stylist: Alonda Butler of Anointed Hands Hair Salon in Upper Marlboro (301-856-0007)
"I selected an elegant bun that could easily be taken down into a long ponytail for my reception," Chantel says.
Makeup Artist: Marquia Kinard of Blend Make-Up Artistry
"I wanted the focus to be on my eyes," says Chantel.
Reception Dress: Betsy & Adam from Nordstrom
"I was told wearing a reception dress was a good way to wow the guests a second time—and that was so true!" says Chantel. "I also switched into adorable lace ballet slippers from DSW."
Nails: Fancy Nails in Mitchelville
Something Old: Mother's pearl necklace
Something New: Wedding gown
Something Borrowed: Mother-in-law's wedding band
Something Blue: Garter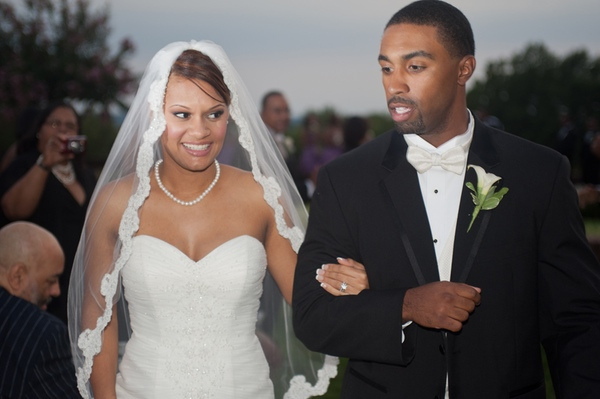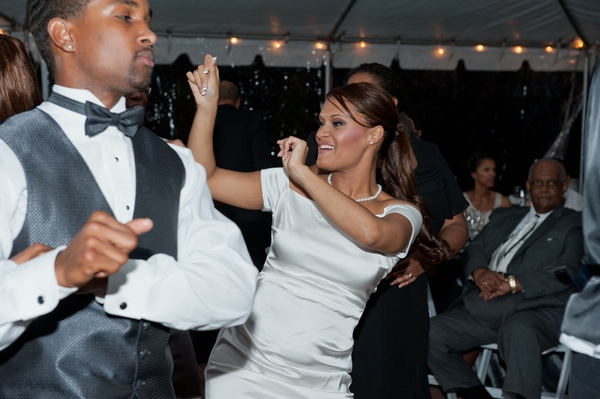 Do you want your wedding featured on our blog? E-mail kforrest@washingtonian.com
Subscribe to Washingtonian
Follow Washingtonian Bride & Groom on Twitter
More>> Bridal Party Blog | Wedding Guide | Wedding Vendor Search