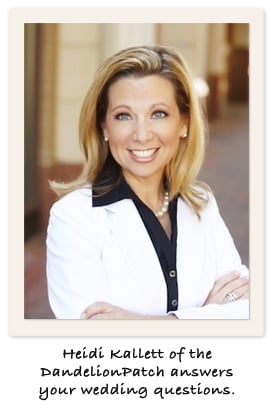 Heidi Kallett is the owner of the Dandelion Patch, a stationery store with locations in Leesburg, Georgetown, Vienna, and Reston. Today, she answers your questions on handling divorced parents on a wedding invitation, when to send out save-the-dates, and what should be included in a wedding program. Check back tomorrow for Part 2 of her Q&A!
DIVORCED PARENTS ON THE INVITATION
Question: My parents are divorced and both remarried, but both couples are contributing to our wedding. How do I address this on our invitation?
Kallett says: "When you are planning a wedding and your parents are divorced, you want to make sure to handle situations delicately so that no one's feelings are hurt. In the case that both parents are contributing to the wedding, they are acting as co-hosts and should both be listed on the invitation. The bride's mother's name would come first."
Ms. Amanda Smith
Mr. Michael Lewis
request the honour of your presence
at the marriage of their daughter
Elizabeth Ann Lewis
"If either parent is remarried, traditional etiquette does not include stepparents on the invitation. However, you may choose to add them. The bride's mother's name would still come first."
Mr. and Mrs. Andrew Smith
Mr. and Mrs. Michael Lewis
request the honour of your presence
at the marriage of their daughter
Elizabeth Ann Lewis
• • •
RESPONSE CARD DILEMMA
Question: I'm having an argument with my mom about this: Are response cards always sent to the bride's parents? My parents are paying for the wedding, but my mom is super-disorganized. I want to be the one to open the response cards and maintain the guest list.
Kallett says: "Traditionally, the person hosting (a.k.a. paying for) the wedding should receive the response cards, but that doesn't mean that the response cards are always mailed to the host. If you make an agreement with your mom to have the response cards mailed to you (because you want to experience the excitement of opening up the cards to find out who's coming to your wedding, you feel you are better organized, or you know more of the guests personally) it is okay to have different mailing addresses on the response cards than the invitations. However, if your mom is the host and is arguing this issue with you, she is correct."
• • •
SAVE-THE-DATE TIMELINE
Question: How far in advance should we send our save-the-dates? We're on a fairly short timeline—our wedding is in just six months. Do we have to send a save-the-date at all?
Kallett says: "Save-the-date cards have become a standard in wedding planning and are also a courtesy to your guests. It is common for guests to travel to weddings so the earlier they are informed of the wedding the more time they have to make travel arrangements and save money for travel. Sending save-the-date cards is considered a 'must' for destination weddings and is strongly encouraged if you are inviting out of town guests. They are usually mailed eight to ten months before the wedding but can be mailed within six months of the wedding."
• • •
CALLIGRAPHY CONCERNS
Question: Is hand-written calligraphy a must for wedding invitation envelopes? It's really out of our budget. Are there any less expensive options, without us resorting to writing out the addresses ourselves? My handwriting is terrible!
Kallett says: "Calligraphy is beautiful, classic and, yes, expensive. One alternative is to ask your stationer if they can print the addresses directly on the envelopes. Almost all of our brides at The Dandelion Patch use either our calligrapher or our in-house printing team to address their envelopes. Our printers are almost always able to match the colors and fonts used on your invitations, and it makes for a beautiful presentation."
• • •
CEREMONY PROGRAMS
Question: What's typically included in a wedding program?
Kallett says: "Some people assemble elaborate programs, whereas others provide a simple order of events. What you include is really up to you although there are some typical components that are included."
Order of processional and names of those involved
Ceremony music selections
The order of the ceremony service
Explanation of service components
Text for prayers or readings
A message of thanks and love from the bride and groom
Cast of characters: names of musicians/singers, the person(s)
officiating the ceremony, attendants and readers.
In memoriam of: (list of lost loved ones)
Translations (if necessary)

"Just keep in mind that the program is not the place to offer elaborate biographies on the bride and groom or advertisements for service providers. It is best to keep it tasteful, traditional and informative for your guests."
Thanks for reading! Be sure to visit the Dandelion Patch's Web site for more information, and check back tomorrow for Part 2 of the Q&A with Heidi Kallett!