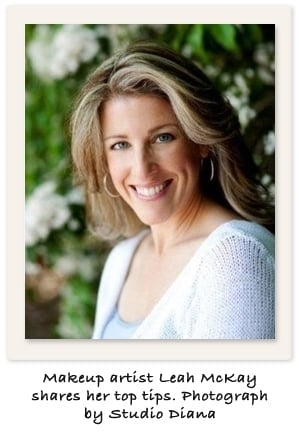 Yesterday, makeup artist Leah McKay answered your questions about pimples, celebrity beauty inspiration, and airbrush makeup. Today, she'll solve your queries about everything from choosing an eye shadow color to facials.
Question: My makeup artist asked me what eye shadow color I wanted on my wedding day and I had no idea! Are there specific eye shadow colors that look best on different types of skin tones? I have fair skin, dark hair, and blue eyes.
McKay says: "Unless you're very specific about what you want, your artist should be able to help develop a palette for your wedding day makeup. That's one of the many benefits of hiring a professional—we help you with those choices! While there are colors that can enhance different skin tones and eye colors, I recommend focusing more on having beautiful skin overall; the colors will simply enhance the final outcome."
Question: If I'm going to get a facial before my wedding, how long beforehand should I do it?
McKay says: "A few days beforehand is fine, although I advise only a gentle exfoliating facial to give the skin a nice glow. I also recommend not introducing any new products to your skin, since that can be a risk for breakouts or another reaction. Additionally, I suggest that if any facial waxing is a consideration, to do so several days in advance so that the skin has time to heal, and makeup can be applied smoothly in those areas."
Question: If I want my entire bridal party to have their makeup done professionally for my wedding, what is the appropriate make-up artist to bridesmaid ratio? Do I need multiple makeup artists for a larger party? How many?
McKay says: This depends largely on how much time is allotted for preparation, and the efficiency of your makeup artist. For example, if I schedule a bridal party of six (a bride and five bridesmaids), then I plan approximately three hours. A party of 10 would involve approximately four-and-a-half hours. I coordinate a timeline around the photographer, and base my arrival hour and setup on that information. If it's a very large party, having multiple artists can be a benefit, especially if you have limited time. Two artists would be quite sufficient, especially if they are working in sync. Your artist(s) should be punctual, organized, professional, and committed to having everyone ready when they need to be, and in a manner where no one feels rushed or stressed.
Visit Leah McKay's Web site for more information.