I've been in New York since Friday, checking out the newest wedding dresses at bridal market. So far, I've watched over 20 fashion shows, and seen approximately 400 brand-new wedding dresses (with many more to come today!). I just wanted to share a few trends that I've noticed over these past few days. Take note, because these dresses will be hitting Washington-area retailers in a few months!
Lace sleeves: Last season's bridal market occurred just a few weeks before the royal wedding, so designers were playing "guess Kate's dress" trying to figure out what the soon-to-be-princess would wear. Now that the royal wedding has come and gone, designers were able to do their own riffs on Kate's Sarah Burton for Alexander McQueen dress. Most brides don't want to look like a carbon copy of Kate, so designers took the most prominent feature of her gown—the lace sleeves—and used them throughout their collections.
1. Gown by Claire Pettibone
2. Gown by Monique Lhuillier
"Pippa dresses": We all know that the real star of the royal wedding was Kate's sister Pippa in her slinky Alexander McQueen gown. This season, designers played with that form-fitting, cowl-neck look. We particularly liked Badgley Mischka's sparkly take.
3. Gown by Badgley Mischka
4. Gown by Christos
Laser-cut fabrics: A few designers employed this technique—creating cutouts of lace-like patterns on delicate fabrics like organza and tulle. It creates almost an eyelet-like appearance, with a modern twist.
5. Gown by Reem Acra
6. Gown by Junko Yoshioka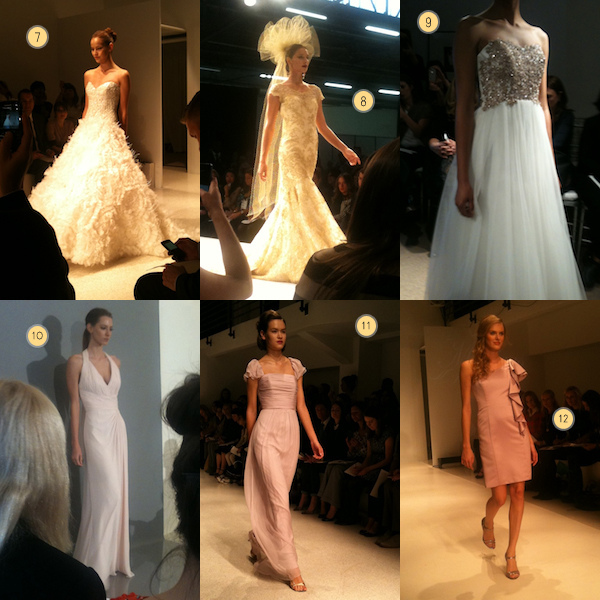 Feathers: We've seen gowns featuring skirts made of fabric petals, which give the appearance of feathers before, but this season we started seeing more designers use actual feathers on gown's skirts. It's definitely for a bride who likes a little (or a lot) of whimsy with her couture.
7. Gown by Kenneth Pool
Yellow gold: Usually, when one thinks of beading or metallic embroidery on gowns, they think of silvery tones. This season, we saw many designers embellish their creations with golden accents, which has a very autumnal feel.
8. Gown by Anne Barge
9. Gown by Anna Maier ~ Ulla Maija Couture
Blush bridesmaid dresses: Designers probably like pink because it's super-feminine and flattering on many skin tones. And since we've seen so many Washington real weddings featuring pink, cherry blossom themes, we think these dresses are perfect for DC bridesmaids.
10. Dress by Monique Lhuillier Bridesmaids
11. Dress by Amsale
12. Dress by Disney Royal Maidens by Alfred Angelo