This page describes the contents of an issue of Washingtonian magazine. Subscribers get exclusive early access through our print and digital editions. Most of our feature stories are later published online and linked below.
Buy a Single Issue
Subscribe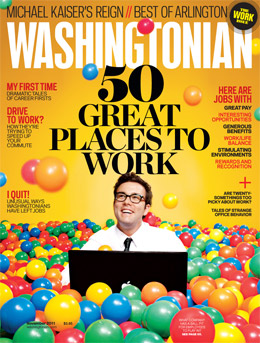 Volume 47, Number 2
Cover Story
What makes a workplace special? Good pay and benefits? A healthy work/life balance? Smart colleagues? Interesting responsibilities? It's not easy to find an employer that offers all those things. Here are 50 places that do. Plus—the most memorable excuses for missing work, outrageous on-the-job behavior, unusual exits, and more.
By Sherri Dalphonse, Mary Clare Glover, James Michael Causey, and Marisa M. Kashino
Cover photograph of Brett Bold at LivingSocial by Vincent Ricardel
Features
None of the five leaders being inducted into The Washingtonian's Business Hall of Fame would have been voted "most likely to succeed" in high school. But all five have done very well, making the area's economy stronger in the process. By Leslie Milk
Some fortunate Washingtonians work in offices that offer terrific views, rich histories, and striking decor. Here's a peek into seven great spaces. By Susan Baer; photographs by Ron Blunt
We've got the nation's worst traffic, and current plans to spend more than $200 billion aren't going to speed up your commute. There's one solution that's working in other cities. Can we make it happen here? By Tim Zimmermann
Rescuing an earthquake victim. Flying Air Force One into Baghdad. Swallowing a sword. Watching the execution of a client. And more tales of career firsts.
They were raised to believe they could do anything, and now they're demanding more from work than their parents ever did. Will they change the world of work or have to lower their sights? By Hannah Seligson
Departments
Capital Comment
A $12-million home bargain in DC . . . A poker-loving Supreme Court lawyer . . . Local celebrity chefs in Las Vegas . . . Rooting for the Caps . . . All the President's lawyers are women.
Where & When
Old gold at National Geo . . . "What's Cooking" at the Archives . . . Beijing Dance Company at the KenCen . . . Hairspray at Signature . . . Allen Toussaint at Strathmore . . . FotoWeek DC.
Looking for the job of your dreams—but not sure what that is? Career coaches may have some ideas. Interview by Kimberly Palmer
He was hailed as a miracle man for the arts when he came to the Kennedy Center, and his portfolio and influence keep growing. By Cragg Hines
Dining Out
In a DC alley, R.J. Cooper is trying to revolutionize the way we dine out. Plus—José Andrés puts his spin on American classics, and a gas station serves great tacos. By Todd Kliman
Best Bites
Wines for an American holiday . . . Unusual Thanksgiving traditions . . . Foraging with the mushroom man . . . Dining in Charlottesville.
Winner in Virginia
Viognier is the state's signature grape. At a tasting, vintners showed they're using it to make first-rate wines. By Wayne F. Nelson
Best of Arlington
It has walkable neighborhoods, a lively nightlife scene, and lots of good places to eat.
Sitting all day can cause backaches and neck pain. Can a new kind of chair help? We put five models to the test. By Melissa Romero
Benefits
Good times for good causes in November. By Katharine Ragsdale
Get a head start on gift shopping or prepare for holiday festivities with these exclusive discounts. By McLean Robbins
Looking for a good laptop tote that's also stylish? These bags really compute. By Kim Forrest
Applying to private schools can be as intimidating as getting into college. Here's how to navigate the process and give your child the best shot. By Luke Mullins and Kathleen Bridges
You're never too old for love. Plus—new assisted-living facilities. By Gloria Krasnow Liebenson and Brooke McEwen
Former Hewlett-Packard head Carly Fiorina spends $6.1 million for a waterfront estate.
A Maryland rescue group is giving second chances to pets. By Gwendolyn Purdom
He was a news guy. She was a chatty conversationalist. This would never work. By Bob Edwards