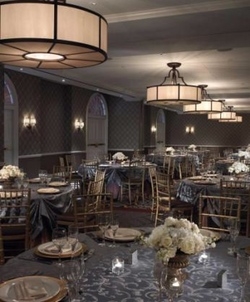 A few weeks ago, we told you the story of a couple who planned their wedding in just 24 hours. If you want a little more time than that—and aren't doing anything on 11/11/11 (a lucky day!)—the Hotel Monaco in Alexandria has the package for you.
The hotel had a last-minute opening on Friday, November 11, and is looking for a couple who wants to get married that evening. For $111 per person (plus tax and gratuities), you'll get a half-hour ceremony with an officiant, a cocktail hour with hors d'oeuvres and drinks, a signature cocktail at the bar, a plated dinner, a four-hour open bar, a dance floor, a bridal suite for the wedding night, and a special room rate for guests of $111 on Friday night—not a bad deal in this town. There's a maximum of 150 guests.
If you're interested, contact Allison Manning at allison.manning@kimptonhotels.com or at 703-519-6850. Visit the Hotel Monaco's Web site for more on the venue.