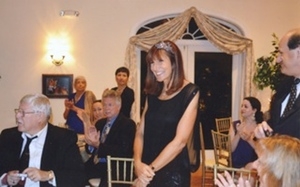 Before her son Evan got engaged, Diane Paul of Rockville used group coupon sites like Groupon and Living Social once in a while. But when she was tasked with planning the rehearsal dinner for Evan and her future daughter-in-law, Dani, she decided to take it to the next level.
For the year leading up to Evan and Dani's Middleburg, Virginia, wedding, Paul used a variety of sites to purchase more than two dozen coupons for all sorts of items and services, from a hair appointment, spray tans, and purses to cake pops, cupcake toppers, and wine. When all was said and done, Paul had spent a total of $1,761 on products and services that would have cost $5,195—saving her $3,434.
"At the rehearsal dinner, I greeted everybody and said, 'And now, a word from our sponsors,'" says Paul. "I then listed all of the sites I used to help pay for the wedding and expressed my appreciation for Groupon."
And while Paul still checks those sites once in a while, "much to my husband's delight, I'm purchasing far fewer coupons," she says.
After the jump, we've got a list of what Paul purchased using group coupon sites.
Edibles
Snacks for the shower and the rehearsal dinner
Custom cake pops
Cupcake toppers
Nuts
Wine
Candy
Groceries
Clothing and Accessories
Dress for the rehearsal dinner
Purses for Diane and Dani
Headband
Slacks
Blouse
Undergarments
Beauty
Manicure
Pedicure
Spray tan
Microdermabrasion
Hair treatment
Beauty products
Massage
Gifts for the newlyweds
Hot stone massages
Frames
Canvas print of wedding photo
Catered meals
House cleaning
Inn stay for anniversary